Wizard Junk Removal in Fort Pierce, Florida 
Do you need to de-clutter or clean up your home? Are you looking for a junk removal Fort Pierce, FL service? Call Wizard Junk Removal for cost-effective junk removal solutions in Fort Pierce, FL. We can clean up your home, office, construction site, or yard. Professionals working for us have years of experience in the industry, and they know how to operate to provide the best junk removal service for our customers. Just give us a call at (772-238-6515) to book an appointment with us. 
If you need a reliable, quick, and helpful junk removal company, contact our junk removal services in Fort Pierce, FL, without a second thought. We are fully equipped to handle light and heavy junk material such as refrigerators, furniture, coolers, construction debris, yard waste, appliances, and almost anything else described as trash. We have over 15 years of experience serving the residential and commercial community of Fort Pierce. We have the proper tools and enough manpower to get rid of any junk. 
Our junk removal Fort Pierce FL company is the ideal junk removal service for you because we have the most affordable and organized waste management and junk removal options. We promise you that you will have a well-maintained home, office, or yard free of any garbage or waste when you hire us. We offer personalized junk removal services to match your needs, and you won't find a company that offers our level of services at this price. Let us handle the trash while you concentrate on your everyday schedule. 
 Residential Junk Removal Services in Fort Pierce 
Wizard Junk Removal is the most known residential junk removal in the Fort Pierce service. When looking for a residential junk removal service, it's critical to do your homework to ensure your money and effort are properly spent. After all, many businesses claim to be the best at what they do but ultimately provide poor service. Our company values our customers' needs because our main objective is to be useful and helpful to the people of Fort Pierce. When you contact us for residential junk removal services, we arrive at your place in an hour. 
Residential Junk Removal Services we provide:
Carpet and Rug Removal

Old Electronic Device Removal

Mattress & Box Spring Removal

Appliance Removal

Bicycle and Exercise Equipment Removal

Used Furniture Removal

Household Trash Removal

Old Hot Tub Removal

Broken Refrigerator Removal

Pool Table/Piano Removal
Commercial Junk Removal Services in Fort Pierce, FL
For all types of commercial junk removal in Fort Pierce, Wizard Junk Removal is the company to call. We're here to assist you in getting rid of the unwanted products that are taking up valuable space in your office or warehouse. You may count on our skilled team to remove everything from furniture to papers to plastic bags full of rubbish and waste.
When you hire us, our employees always do a thorough job, and they will even remove the junk items that you may have overlooked. Once the project is finished, one of our junk removal Fort Pierce company professionals will email you a detailed invoice so that there is no room for misunderstanding when it comes to payment. Business owners' schedules can be hectic, so contact us right away, and we'll set up a junk removal appointment that's tailored to your needs.
Commerical Services offered: 
Property waste management

Office cleanup

Foreclosure and eviction cleanup

Warehouse cleanup and junk removal

Dumpster rental for commercial needs

Commercial landscaping debris removal
Construction Debris Removal Service in Fort Pierce, Florida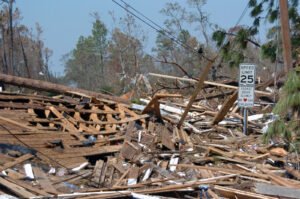 A construction manager can't expect the workers to finish the task of debris collection because heavy commercial debris removal needs special techniques. Sending your employees to the landfill to deposit rubbish will cost you money, yet the job will be only half-done. Contact our professional construction debris removal in Fort Pierce services because we have the necessary resources to complete the work efficiently and thoroughly. Our junk removal Fort Pierce FL company uses the most current equipment, and our workers are trained and skilled. We are a company that prioritizes customer pleasure, and we will remove everything except some select hazardous materials. You can count on us to keep working until all junk material has been removed and your location is completely free of filth and garbage. 
Construction debris removal services: 
      Stones and gravel removal 

      Heavy debris and trash removal

      Nails and screws removal

      Metal scrap and wood scrap removal

      Corrugated sheet removal

      Concrete slab removal

      Tiles and sheeting removal

      Asphalt paving removal

      Cement/ bricks/drywall removal
Many people are unaware that many building waste materials can be recycled not to create unnecessary pollution. We reduce our carbon footprint on the planet by recycling items that we collect from construction sites. 
Yard Waste Removal Services in Fort Pierce 
Who will clear up your yard if there is a lot of rubbish and clutter? Would you compromise your health and waste your valuable time doing something that professionals should do? Our yard waste removal in Fort Pierce service can handle all types of yard waste and junk. Contact us, and we'll quickly schedule an appointment, clean your yard, remove all the rubbish and dispose of it in environmentally responsible ways. We are a dependable and punctual company, and we leave no stone unturned to ensure a successful result that will make you happy.
Yard waste removal services:
      Yard waste transport and disposal

      Old firewood and lumber removal

      Yard debris removal

      Shed and treehouse demolition

      Branches and clippings removal

      Soil and dirt cleanup and removal

      Wood scrap removal

      Unwanted gardening equipment removal

      Dead leaves removal

      Damaged wooden fence disposal

      Broken or rotten tree removal
The climate is a big factor in yard trash, and after a cyclone, your yard can become a mess. That's why we offer special cyclone waste removal services to our customers. Trimming, pruning, cutting your hedges, and mowing your lawn can also make a lot of waste that you don't know where to dump. Our junk removal in Fort Pierce service can do that work for you. We clean up your lawn and yard because what good is a beautiful yard if you can't enjoy it because there's rubbish everywhere?
Our Fort Pierce junk removal company is properly licensed and insured, so you can rest assured that you're working with a reputable company with great customer ratings. We follow all safety standards, and our registered status ensures that your property is properly protected against damages. 
You can count on the environment-friendly services from our junk removal Fort Pierce company. We are committed to environmental preservation and take all necessary precautions to prevent your trash from being disposed of in landfills. We recycle as much as possible and donate the usable items to charities. For a free quote, give us a call right now at – (772-238-6515)