Wizard Junk Removal Jacksonville Fl
If you are looking for a reliable junk removal in Jacksonville, Florida, to get rid of your old furniture, carpets or junk, then we at Wizard Junk Removal Jacksonville can be of service.  We help remove all sorts of junk like renovation debris, yard waste, furniture and appliances. Removing junk can be a headache, you should never do it alone. It is essential to have experience and have the right equipment and procedure for removal; otherwise, it could cause injury and property damage. Call 904-822-5008.
Reliable And Convenient Junk Removal Services in Jacksonville
 Wizard junk removal is one of the best junk removal companies in Jacksonville, Florida. We offer easy solutions in junk removal for residential and commercial properties. We are an efficient and affordable service that works within your budget and convenience. Our rave reviews, and happy clients have made us what we are today. This is what makes Wizard Junk Removal in Jacksonville, the professional company that it is. We of course make junk removal easy for you. If you schedule a job, we will come and clear out your clutter in just one day.
We Can Help You with All Your Residential Cleanout Needs!
Whether you need a basement clean-out, furniture removal, garbage removal, or debris removal, Wizard Junk Removal can help you with a variety of economical junk removal services. We handle any trash management or rubbish removal job, from cleaning out your yard to eliminating the junk in your basement.
If you require help for clean-up and even an eviction cleanout with an apartment lease or office space, call up Wizard Junk removal in Jacksonville. We are here to provide you with professional assistance after a possible eviction, as most tenants don't clean after vacating properties. Our services are efficient and thorough, so no stuff gets left behind. Your property will look just like how it did before the tenant moved in. We can also provide light demolition work and haul your electronics, furniture, landscape debris, appliances, trash, and garbage.
Junk Removal

Mattress Disposal

Refrigerator Disposal & Recycling

Construction Waste Removal Garbage Removal

Furniture Removal

Television Disposal & Recycling

Yard Waste Removal

Foreclosure Clean Outs

Appliance Removal

Hot Tubs

E-Waste Disposal
Commercial Junk Removal Jacksonville Florida 
Things like electronics, cell phones, and lithium batteries harm our environment when they end up in a landfill. This is one of the reasons for the spread of strange diseases. We need to stop damaging the environment, and the best way is to call a professional and responsible junk removal company in Jacksonville to remove your commercial trash and disposable products. As long as the item isn't dangerous rubbish, a commercial junk removal firm will usually accept it. Hazardous waste must be managed in accordance with EPA guidelines. There are certain regulations that govern this, ensuring that the general public is not exposed to hazards like as mould and asbestos.
Call Wizard Junk Removal Jacksonville and we will give you an affordable deal to remove all the clutter from your office establishment. 
We Offer a Variety of Commercial Clean-up Services
Storage and office cleanout

Light demolition

Commercial junk

Electrical equipment

Electronic Appliances

Office furniture

Office fittings

Huge yard clean-ups

Foreclosure and eviction cleanout

Airbnb cleaning
Yard Waste Removal in Jacksonville FL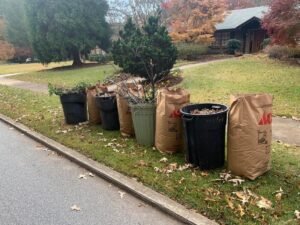 There is a list of reasons why you may require yard waste removal in Jacksonville, FL. When you landscape your yard or lawn, there will be debris and trash everywhere. It could clutter in your yard for months. The main problem is the debris which is left behind by storms. In such cases, you should get a professional service to remove the broken trees, dead leaves, stones, damaged fences, etc. You should avoid doing such things as there is a high risk of getting hurt. The best team for cleaning up your yard would be the Wizard Junk removal team.  
Tree stumps and dead trees

Branches, clippings, dead leaves

Stones and gravel

Broken fencing

Landscape debris

Metal scrap

Soil 

Firewood and Lumber

Mulch and excess compost
 Wizard Junk Removal in Jacksonville will take over the entire burden of cleaning your yard and arranging it well. We manage the entire job of removing all the debris and clutter. Once the cleaning job is over, the restoration of your yard to its original state would also be done by us.   
Construction Debris Removal in Jacksonville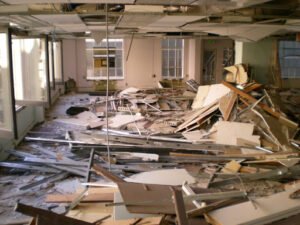 It is not easy to remove construction debris and manage an organized site. It is very difficult to get rid of metal scraps and concrete, especially if you don't have the workforce and correct equipment. This is a major reason why you should choose a good construction debris removal service in Jacksonville, Fl, as it is the smartest and easiest option to choose.
Affordable And Easy Solutions for Construction Debris Management
Wizard Junk Removal in Jacksonville, FL, will provide easy and affordable solutions for all your construction debris and waste problems. Our skilled and trained team will clean up your property so that the project site becomes organized and clear from debris and clutter. The construction work can proceed smoothly, and now you can focus on your project more clearly rather than worrying about its junk. It will be assured that every piece of debris and dirt will be removed so that the laborers can continue with their jobs injury-free.
What You Can Expect from Our Services
We'll demolish unneeded structures on your site to prep them for your new project.

Let us haul away the debris and any leftover material once your job is complete.

We ensure your new site build is clean and ready to show the world.

Items that we can remove from your construction site
What We Remove
          Dirt, gravel, and debris

          Shingles and tiles

          Cement, concrete, and sheetrock

          Drywall, canvas, and plaster

          Asphalt paving, stones, and concrete

          Wood and metal scrap

          Corrugated iron sheets and rods

          Damaged tools and equipment

          Screws and nails
Licensed And Insured Company
Wizard Junk Removal is a licensed and insured company that takes safety as its priority. Our team uses the correct equipment and care for handling debris and junk so that no damage is ever caused to your property. Our legal system ensures protection to both your property and our staff.
Wizard Junk Removal also bears the responsibility of protecting your environment. We take the initiative to separate heaps of junk before we get rid of it. This is done to reduce the strain and impact which it can cause in landfills and our environment. The nondegradable junk is sent for recycling. The items which can be reused will be fixed or donated for charity. This is how we give back to the community.  We are proud to be a junk removal Jacksonville company that is eco-friendly, and we work for a greener environment for a cleaner future.
You pick a day and time to book an appointment.
We add you to our schedule and arrive on time.

We'll give you a courtesy call 30 minutes before confirming the appointment.

We arrive, agree on a price, and get the job done.

At completion, we double-check if we missed anything.

You pay the previously agreed price (No bait and switch!), and we head off to sort/recycle your stuff.

You're All Set! Nothing else for you!
For the best junk removal services in Jacksonville Fl, waste no time but call Wizard Junk Removal now on 904-822-5008.