Wizard Junk Removal in Lutz, Florida
When it comes to junk removal in Lutz, Florida, Wizard Junk Removal is the best option. Thanks to our years of experience, we can handle any junk piled up at your home. We are particularly known for our reliable services and great customer service. Call – (816-491-1427) today to hire our junk removal professionals. 
Only a dependable and effective junk removal Lutz FL service can understand how clutter and junk can overwhelm your property. Household garbage accumulates over time and quickly becomes a huge problem that cannot be solved without help. The most difficult aspect of rubbish removal from home is the hassle of disposal and transportation. You should hire our professional junk removal services in Lutz, FL, to take care of it for you because trying to do it all by yourself could be incredibly stressful. Our company offers various services, including junk removal from your house or office and disposal through our network of dumpsters. The process of junk removal is simple with us and can be completed quickly. 
We understand how vital it is to have a junk removal company that you can trust and rely on. Wizard Junk Removal is a completely licensed and insured company. Our junk removal Lutz FL service professionals always make sure that your property is not damaged during the junk removal process.  
Residential Junk Removal Services in Lutz, Florida
If your home is jammed with junk items and trash, it's time to contact our residential junk removal in Lutz service to have your home cleaned up and de-cluttered. Our professionals know how to do their job, and they can make getting rid of trash and waste quick and easy for you. We provide all of the manpower you need for a project as a full-service junk removal company. All you have to do is give us a call, and our junk removal in Lutz service will do all of the heavy lifting for you. Why put yourself through the hardship of living with trash? Contact us and get rid of it.
Residential Services offered: 
      Furniture removal

      Attic cleanup

      Appliance removal

      Basement cleanup

      Carpet and rug removal

      Remodeling debris removal

      E-waste removal

      Relocation junk removal

      Mattress removal

      Garage cleanup

      Electronic gadgets removal

      Hot tub removal

      Shed demolition and removal

      Cyclone cleanup
You may be unable to park your car in your garage because of the amount of junk in the area, or you may require the conversion of your basement into a guest room but cannot get past the rubbish. Don't worry! We are here to assist you with our efficient junk removal services.
Commercial Junk Removal Services in Lutz, FL
Wizard Junk Removal is a well-known commercial junk removal and cleanup company in Lutz, FL. When you hire our junk removal Lutz FL company for your needs, it will pay off in various ways. All our services are very affordable, and our junk removal system's efficiency will help you save a lot of time and effort. Please put your trust in our commercial junk removal in Lutz service instead of amateur companies. Our staff is trained to work quickly and thoroughly to make any junk removal project customer-friendly. 
Commercial Junk Removal Service:
      Commercial place junk removal

      Warehouse clean-ups

      Foreclosure and eviction cleanup

      Dumpster rental for commercial places

      Regular trash/waste removal 
Whether you have a small or large business, you will benefit from hiring our services. We provide every business owner with personalized strategies to suit their time and budget. Our company is well-known in the community, and we ensure that your junk removal or commercial waste management routine is adequately maintained.  
Construction Debris Removal in Lutz, Florida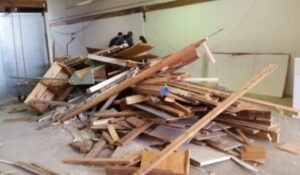 Our expert professionals have special training in all types of construction debris removal in Lutz, FL. As a professional junk removal service, we work on both large and small projects. Whether it's a house renovation or a large-scale construction, we will provide the finest construction debris removal in Lutz service by efficiently and swiftly removing and disposing of the construction debris of your work site. We will haul away anything except hazardous items, and you can count on us to return as many times as necessary until all of your material has been removed. Our company believes in complete client satisfaction and professional work ethics.  
Construction Junk Removal Services offered:
      Concrete/gravel/stones removal

      Nails/screws removal

      Cement/ bricks/drywall removal

      Tiles and sheeting removal

      Gravel/asphalt paving removal

      Corrugated sheets removal

      Metal scrap removal
If you are in charge of a construction project, you cannot use your employees to complete the task of debris removal because it will be too costly. Sending your workers to the landfill to deposit waste costs you extra money because of extra labor time. Without the proper resources, you won't be able to complete the job either, and as a result, you will be leaving unwanted debris behind. Allow our professional service to do the job because we have the necessary equipment and skilled staff for the project.  
Yard Waste Removal in Lutz, FL
Having a yard means having to put up with a lot of trash and clutter. To maintain the beauty of your yard, you will require the help of a yard waste removal in Lutz service. Don't worry! Just give us a call, and we will be there for you. A professional junk removal Lutz company like ours can assist you in completing a thorough yard cleanup so that your yard appears tidy. We clean up all the rubbish and debris leftover from upkeep, landscaping, or bad weather. Rather than taking on the stress of yard cleanup, contact our dependable and trustworthy yard waste removal professionals. 
Yard Waste Services offered:
      Tree stumps, dead trees, and rotten wood removal

      Tree and branch removal

      Landscaping debris removal

      Dirt and soil removal

      Damaged sheds removal

      Waste and mulch removal

      Broken fencing removal

      Storm cleanup services

      Discarded garden furniture removal
Storms and hurricanes can leave a lot of debris on lawns and yards, and hazardous debris such as broken trees, branches, and damaged sheds can cause injuries and accidents. One of our most in-demand services in storm cleanup. Such jobs necessitate the use of well-trained specialists who are familiar with managing these types of situations. Our Lutz junk removal company, uses the most modern yard waste removal procedures, including heavy-duty equipment like electric saws and cutters. 
Our Eco-Friendly Company Uses Responsible Disposal Methods
We are one of the top Junk removal Lutz FL services, and we are proud to say that our company takes preventive measures against causing harmful environmental impact. We dispose of garbage responsibly, adhering to all environmental rules and avoiding pollution. We also donate any reusable items such as outdated furniture or appliances to deserving organizations. You may phone us at any time, and we will be pleased to provide a free, non-binding quote following an onsite inspection. Look no farther for junk removal services in Lutz. Just give us a call at (816-491-1427)