Wizard Junk Removal in Spring Hill, Florida 
When it comes to junk removal in Spring Hill, Wizard Junk Removal company is the best option. We can remove the excessive rubbish gathered at your home or office and clear construction debris and yard trash. Thanks to our years of experience, all the junk removal Spring Hill FL services we provide are of excellent quality. Contact our professionals at (352-513-8634) to hire our services.  It might be exhausting to clean up your house clutter, and why put your health or safety at risk by undertaking such tasks? You get a simple and effective solution to that problem by hiring us to remove the junk. Spring Hill, FL, Our junk removal services offer simple and cost-effective garbage management, rubbish removal, and junk disposal. We are experts in every part of the job and will arrive fully prepared to complete your project in 24 hours. We lift even the heaviest of items from your home without scratching your walls or floor.
Arranging amateur services to remove the garbage accumulated in your home is not a productive idea, and hiring many services to complete the job is even worse. Our junk removal Spring Hill FL service can provide you with the fantastic benefit of relying on a single junk removal service that can handle the entire process. We give you free quotations that are the most affordable in the industry, and we don't have any hidden costs. Our junk removal Spring Hill service is fully licensed and insured, guaranteeing that you are hiring a firm with a high level of trustworthiness. We also work following all safety regulations, and our full registration ensures that your property is adequately protected against damage. 
Residential Junk Removal Service in Spring Hill FL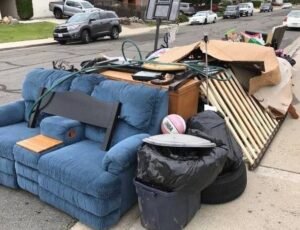 The most serious problem with having rubbish and clutter spread all around the house is that you don't have enough space to maintain a modern lifestyle. Space constraints and the inability to discover necessary items among the clutter can be extremely stressful. In such a case, you will urgently want the assistance of professional residential junk removal in Spring Hill service. We are completely equipped to handle both light and heavy junk items. Old refrigerators, broken furniture, appliances, and nearly anything else that can be labeled as trash on your property can be removed by us. We have over 15 years of expertise serving in the industry, and we offer the most affordable rates for residential services.
Services offered:
Remodeling debris removal

Relocation junk removal

Appliance removal

Carpet and rug removal

Furniture removal

Garage cleanup

Attic cleanup

Mattress removal

Electronic gadgets removal

Basement cleanup

E-waste removal

Hot tub removal

Shed demolition and removal

Cyclone cleanup
Commercial Junk Removal Spring Hill Florida 
Wizard Junk Removal is the ideal junk removal service for you, whether a property manager or a small business owner. Our commercial junk removal in Spring Hill services can offer the most cost-effective and structured waste management systems for property owners, offices, and institutions. For a well-maintained commercial place free of trash and waste, contact our company today. Let us handle the garbage while you concentrate on the more important areas of your business.
Commercial junk removal services:
Office cleanup and junk removal

Old machinery removal

Non-functioning computers and data banks removal 

Warehouse cleanup

Property waste management

Broken office furniture removal

Office renovation debris removal

Dumpster rental for commercial places

Landscaping debris removal
You can count on efficient garbage removal by our professionals who will arrive on time to meet your rubbish collection deadlines. Our junk removal Spring Hill FL firm has a flexible and convenient time frame that is planned to provide you with customized service.  
 Construction Debris Removal Services in Spring Hill, Florida 
The proper disposal of construction waste material is one of the most significant aspects of removing garbage from construction sites. This is why you need a professional construction debris removal in Spring Hill service like ours. Concrete debris and metal scrap are generated during construction and remodeling projects, and because of environmental concerns, these items should be recycled. At our company, regular recycling is an important aspect of the disposal process. We will ensure that all recyclable goods are transported to a recycling facility rather than being dumped in a landfill. All states have their standards and regulations for construction waste removal, and we are well-versed in these procedures, so you won't have to worry about learning the rules when you call us.
Services offered: 
Cement and brick removal

Nails and screws removal

Tiles and sheeting removal

Concrete/gravel/stone removal

Asphalt paving removal

Metal scrap and wood scrap removal

Corrugated sheet removal
The procedure for hiring our construction debris removal service is straightforward. All you have to do is contact us, and we'll come to your place to analyze the situation. Our Spring Hill junk removal company will provide you with an estimate for hauling and disposing of your building and remodeling waste. Our professionals will resolve all cost-related concerns, and no extra amount will be charged once a fee has been agreed upon.
Yard Waste Removal Services in Spring Hill, Florida
Wizard Junk Removal professionals can remove all the trash that has gathered in your yard. Our yard waste removal in Spring Hill service uses specialized hauling and handling procedures, including electric saws, cutters and heavy-duty wheelbarrows to provide the best service to our customers. Yard waste removal does not just end with removing the junk; it also needs proper arrangements for responsible disposal. Did you know that dumping your yard waste in a landfill or garbage dump is illegal? Regulatory bodies ban that practice because it will pollute the environment and clog sewers and canals. On the other hand, organic yard garbage can be recycled and utilized as fertilizer, which is why our junk removal in Spring Hill service recycles a large amount of yard debris. 
Yard waste removal services:

Leaves and grass removal

Tree stumps and rotten wood removal

Fallen trees and branches removal

Thornbush clipping removals

Dirt and soil removal

Storm damage debris removal

Damaged and torn down shed removal

Landscaping waste removal

Old garden furniture removal

Discarded fencing removal

Trimmings and clippings removal

Disposal of old garden equipment
Our company handles and disposes of all types of yard waste and affordably. We will always keep you on a schedule that is convenient for you. When you call us, we will answer all of your questions about the process of yard cleanup.
Our junk removal Spring Hill FL service is environmentally friendly, and we take all the steps to recycle as much waste as possible. We also donate usable old items to charities. We understand how vital it is to contribute to the environment today, and we follow all regulatory rules for responsible rubbish disposal. For a free quote, give us a call at (352-513-8634)