Wizard Junk Removal in Homestead, Florida
Is there a lot of junk in your house, and you're not sure what to do with it? As long as you keep storing your damaged or old items, trash will keep piling up. Instead of taking the stress and headache of junk removal, let our junk removal Homestead FL company help you with all your junk removal problems. Wizard Junk Removal provides the best junk removal services in Homestead, FL, and we are well-known for our trustworthiness. Just give us a call, and we'll take care of the rest.
We Clean Up the Place After We Remove Your Junk  
We have the necessary equipment, gear, and instruments to make junk removal as seamless as possible. We guarantee that there will be no damage to your home because of our careful handling of the junk. Our junk removal Homestead FL company will also clean up your place once we've finished hauling and loading your junk items so that you can have a beautiful clean space to use. 
Booking Our Same-day Junk Removal Service is Simple
Our junk removal Homestead company has an easy booking system. All you have to do is schedule an appointment online or give us a call, and we'll come to you, examine the situation and provide a free onsite quote. You are under no pressure to hire our services, but if you accept our superbly affordable rates, we will be there to take your household trash or rubbish within the time frame you specify. We also provide same-day services for people who are facing a desperate situation. 
Affordable Rates with High-Quality Service 
Wizard Junk Removal can provide you with inexpensive pricing to have your junk hauled away from your property. Our Homestead, a junk removal company, will remove any item that qualifies as trash from your property. We remove old or damaged furniture, clutter from the basement and attic, appliances, yard waste and rubbish, and more in only one day. The junk removal process may appear intimidating and difficult to you, but to us, it is a simple job. 
Wizard Junk Removal: An Insured and Bonded Company 
All of our services have been certified by state authorities, and we are a licensed and insured junk removal in Homestead service. We are known for being an eco-friendly company, and our reputable firm will recycle the majority of garbage that we remove from your property.  
Residential Junk Removal Services in Homestead, Florida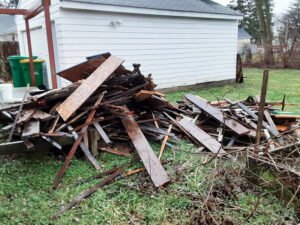 If your home is congested and overrun with trash, it's time to call our residential junk removal in Homestead service to have it cleaned up. Our skilled professionals have knowledge and experience, and they know the best ways to remove bulky items. We have enough manpower and advanced equipment to handle any residential junk removal project. 
Residential junk removal services:
      Attic cleanup

      Basement cleanup

      Mattress removal

      Remodeling debris removal

      Relocation junk removal

      Furniture removal

      Appliance removal

      Electronic gadgets removal

      Garage cleanup

      Hot tub removal

      Carpet and rug removal
Commercial Junk Removal Services in Homestead
Do you need trash removal, eviction cleanout, or any other type of commercial junk removal in Homestead service for your business property or office? Wizard Junk Removal is the right choice! We provide a wide range of environmentally safe commercial junk removal services for your company. All our services are quite affordable, and every business owner receives a unique plan designed for their specific requirements. When you put your trust in our junk removal Homestead FL service experts, you will never regret your decision.  
Commercial junk removal service:
      Warehouse cleanup

      Old computer and machine removal

      Storage room cleanup

      Everyday trash removal for commercial places

      Eviction cleanup

      Dumpster rental for commercial places
If your business is congested with damaged equipment, data banks, and obsolete photocopiers, you need to remove those things to make room for modern office products. When you own a business, you understand how valuable office space is, therefore call Wizard Junk Removal right away to get rid of all the clutter and junk.
Construction Debris Removal Homestead FL Services
When you choose a service like Wizard Junk Removal to manage the debris generated on your construction site, you save a lot of effort and money. When you hire our construction debris removal in Homestead service, you won't have to worry about labor costs, dumpster prices, and the issue of dumpster parking. Allow our junk removal company to handle the construction debris removal for you because we have the experience and infrastructure to conduct such operations.  
Construction debris removal services:
      Gravel/asphalt paving removal

      Nails/screws removal

      Cement/bricks/drywall removal

      Tiles and sheeting removal

      Metal scrap removal

      Corrugated sheets removal

      Concrete/stone removal
You won't accomplish your job on schedule if you don't keep your construction site tidy because a congested area slows down work speed. Allow our skilled junk removal service to take care of the construction debris removal process so you can focus on your work.
Yard Waste Removal Homestead Florida Service
To keep your yard looking great, you'll need the help of a professional yard waste removal in Homestead service like ours. We can assist you in cleaning up your yard and making it look beautiful and tidy. Routine maintenance, landscaping, storms and hurricanes can leave a lot of debris in yards and clean that up. You should choose our competent services. 
Yard waste removal services:
      Fallen tree and branch removal

      Landscaping debris removal

      Dirt and soil removal

      Damaged sheds removal

      Discarded garden furniture removal

      Broken fencing removal

      Tree stumps and dead tree removal

      Storm cleanup services

      Rotten wood removal

      Waste and mulch removal
Environment-Friendly Company Offering You Efficient Service
As an insured junk removal Homestead FL company, we follow all safety and disposal rules. Most of the items we collect are recycled, and when we see any product that can be reused, we send it to charities. To lessen your carbon footprint globally, contact us, and we'll get all your junk removed.