Wizard Junk Removal in Palm Beach Gardens, Florida 
Are you looking for a junk removal service in Palm Beach Gardens, Florida? You may need to remove large, cumbersome furniture, or you may need to clean out the rubbish that has accumulated in your basement. Only a trusted and professional junk removal Palm Beach Gardens FL company like Wizard Junk Removal is qualified and skilled enough to haul away such waste, trash, and junk. Give us a call at (561-375-2675), and we will quickly set up an appointment. 
Our junk removal services in Palm Beach Gardens, FL, are properly licensed and insured. You won't have to worry about any damage when you hire us because our professionals work with care. Our reputable company follows all safety standards, and our crews are experts at removing rubbish in the most environmentally friendly way possible. 
Residential, commercial, construction site, and yard area junk removal are all done by our junk removal Palm Beach Gardens company. We can assist you in getting rid of unwanted furniture, electrical goods, yard waste, cracked concrete, and even a rotten shed. All of our services are kept very budget-friendly for the comfort of our customers. We guarantee you won't find a better deal elsewhere. When it comes to junk removal, you should look for a company that will offer you a quote that includes every procedure step. Wizard Junk Removal offers non-obligatory free quotes that you will find very reasonable. 
Residential Junk Removal Services in Palm Beach Gardens FL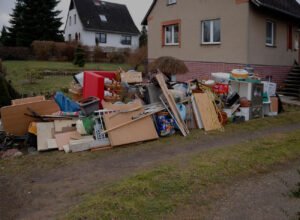 Most residences have food wrappers, broken furniture, and damaged equipment piled up in a corner. People don't have time to clean it themselves, and they're often worried about hiring junk removal in Palm Beach Gardens service because of the high service charges that many companies demand. Did you know that storing trash in your garage or basement can make the space hazardous to your health? Because trash materials can rot, and fungus and bacteria start growing in the area. Why risk your health by waiting for a health hazard when you can have your waste collected and removed by our residential junk removal in Palm Beach Gardens service? We will remove daily junk as well as broken furniture, mattresses, old beds, and filthy carpets and rugs from your property. All broken electrical equipment will also be taken care of by our company professionals. 
Residential Services offered:
Remodeling debris removal

Rug removal

Attic cleanup

Basement cleanup

Appliance removal

Mattress removal

Garage cleanup

Furniture removal

Hot tub removal

Cleanup after a natural disaster

Relocation junk removal and cleanup

E-waste removal

Electronic gadgets removal

Shed removal
Commercial Junk Removal in Palm Beach Gardens FL
Wizard Junk Removal is a well-known commercial junk removal and cleanup company in Palm Beach Gardens, FL. Our commercial junk removal in Palm Beach Gardens service will help you save a lot of effort and money. Contact our insured junk removal company services instead of amateur firms for your junk removal and disposal needs. Our staff is trained to work quickly and efficiently to make any junk removal project hassle-free.
Commercial junk removal services:
Broken office furniture removal

Office cleanup

Warehouse cleanup

Old machinery removal

Old computers and data banks removal

Dumpster rental

Commercial property waste removal 

Office renovation junk removal

Foreclosure and eviction cleanup

Shop junk removal

Landscaping junk removal
Our company is ready to help you with our commercial junk removal services whether you own a small shop or a large commercial building. We value all work equally and make sure that all our customers are satisfied with our services.  
Construction Debris Removal Services in Palm Beach Gardens, Florida
Allow our junk removal Palm Beach Gardens FL service to cover commercial debris removal work for you. Construction workers cannot do the task of debris removal themselves because they lack the proper equipment and training for it. Dumping all sorts of rubbish in landfills without care for the environment is not an option either because state authorities can fine you for breaking environmental regulations. Our construction debris removal in Palm Beach Gardens service has the appropriate gadgets, current equipment, and skilled personnel to efficiently complete all types of debris removal work. We are the perfect solution for removing the load of construction waste removal from your daily schedule. We are a company that prioritizes our customers' needs, and we will remove everything except a few potentially hazardous materials.  
Construction debris removal services:
      Asphalt paving removal

      Construction debris and trash removal

      Corrugated sheet removal

      Metal scrap/wood scrap removal

      Tile and sheeting removal

      Stones/bricks removal

      Nails and screws removal

      Concrete/gravel removal

      Cement//drywall removal
Yard Waste Removal Services in Palm Beach Gardens, Florida
All of the junk accumulated in your yard can be removed by our yard waste removal in Palm Beach Gardens service. To provide the best service to our customers, our professionals use special hauling mechanisms and handling processes such as electric saws and modern wheelbarrows. Yard garbage removal entails more than just removing the trash. It also necessitates making suitable plans for responsible disposal. It's against the law to throw your yard trash in a landfill or garbage dump because it pollutes the environment and clogs sewers and canals. Regulatory bodies can fine you if you don't follow these guidelines. Our Palm Beach Gardens junk removal company recycles all organic yard waste that we collect.  
Yard waste removal services:
Thornbush clipping removals

Landscaping waste removal

Leaves and grass removal

Dirt and soil removal

Tree stumps and rotten wood removal

Old garden furniture removal

Fallen trees and branches removal

Storm damage debris removal

Trimmings and clippings removal

Damaged and torn down shed removal

Discarded fencing removal

Disposal of old garden equipment
All forms of yard waste are handled and disposed of by our professionals straightforwardly and cost-effectively. We will always work with you on a timetable that works for you, and we will answer all your questions regarding our yard waste removal service when you contact us.
Many people are unaware that many waste products and junk materials can be successfully recycled. We care about the environment, which is why we try to avoid putting your rubbish in landfills. This way, we reduce our carbon footprint on the planet and reduce pollution. Our junk removal Palm Beach Gardens FL service aims to recycle as much as 60-80% of the waste, and what is usable is donated to several charities. To hire our services, you can reach us at – (561-375-2675)