Wizard Junk Removal Miami Gardens Florida
Seeing your homes or places of business become cluttered and unkempt makes the area ugly. When your space is crammed with extraneous items, it loses its functionality. Thus it's critical to keep it tidy and functional. But nobody wants to deal with the nuisance of clutter as well! That being the case, it will be better to search for Junk Removal Miami Gardens Fl services to do the work for you. Whatever your reason for needing junk removal services in Miami Gardens, Florida, Wizard Junk Removal can assist you! We can help you with junk removal whether you're moving and need to get rid of furniture, renovating your property, or simply performing some deep cleaning.
Professional Junk Removal Miami Gardens Fl Company for All Your Needs
At Wizard Junk Removal, we seek to manage every form of junk and trash more efficiently to meet the wide range of challenges we face. We can help you with dumpster rental, debris removal, and a whole cleanout if you need it, in addition to our regular junk removal collection. All of the trash we collect from your property is sorted and delivered to the right civic bodies for environmentally friendly ways of disposal. We can be a valuable ally if you operate in the commercial sector. We can help with workplace cleanouts and large-scale waste hauling. We have a bank of experienced management partners who can handle whatever type of waste or junk you have, whether it's natural, electrical, mechanical, or construction. 
Affordable, Licensed, And Insured Junk Removal Miami Gardens Fl Service
Junk Removal Miami Gardens Fl provides low-cost junk removal services for your house or business, including offices, retail stores, building sites, and more. In addition, we shall meet or beat any documented estimate from other junk removal service providers. This implies that your cleanup service will be completed by a fully licensed, insured, and competent junk removal team.
Residential Junk Removal in Miami Gardens Fl
Old furniture can take up a lot of space on the floor. It may even stop you from purchasing new furniture, or it may fail to blend in with new furniture, which can be inconvenient. The old furniture isn't just for the living room. It could be a hand-me-down, an out-of-style item, or something the kids left behind and neither you nor they desire. It isn't even necessary for it to be ancient! It's just something that is no longer required! They must be hauled out to dispose of these heavy objects, which is tiring and hectic. Alternatively, you can arrange for our junk removal team to come to your home and get rid of all your junk, unwanted furniture, and perform thorough cleanups all over. 
Presently, our residential junk removal services cover the following areas:
Home junk removal

Couch and sofas removal

Beds and mattresses removal

Upholstery and household furniture removal

Home cleanouts

Garage junk removals

Garage cleanup

Attic cleanup

Basement cleanout 

Spring cleaning
Commercial Junk Removal in Miami Gardens Fl
When it comes to hiring a commercial junk removal service, there are several variables to consider. To begin, think about how long it will take to sort through the trash, put it into the truck, and haul it away. It's also crucial to consider the safety of the crew you've hired. Removing workplace furniture and equipment is risky and can result in back strain and injury. As a result, it is preferable to contact a professional to complete the task. Wizard Junk Removal has the most experienced professional junk removal crew who can tackle any assignment you give them. Call us for-
Yard Waste Removal in Miami Gardens Fl
Allowing our competent team to remove your yard garbage is the most convenient way to get rid of the yard waste and junk strewn all over your yard. All you have to do is contact and schedule a date for yard waste removal when convenient for you. We'll take care of all the removal, demolition, hauling, loading, transporting, and disposal of your yard waste. 
We can efficiently remove:
Leaves

Weeds

Grass clippings

Small brush clippings 

Tree branches 

Hedges

Fences

Garden tools

Shed and Jacuzzi 

Yard waste materials
Construction Debris Removal in Miami Gardens Fl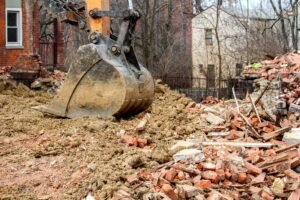 Construction waste consists of a diverse range of building and repair components that are too small or damaged to be reused elsewhere. Every year, homeowners and businesses produce millions of tons of construction waste. Large construction operations and little backyard initiatives generate debris that can accumulate and become a hazard. Debris from construction and restoration projects takes time and resources away from the task at hand and increases the cost. Landfill regulations demand sorting and limiting what can be dumped and recycled or is hazardous. 
Whether you're a large corporation or a small residential household, it can be challenging to dispose of building materials and debris. So, why take the headache of organizing the waste removal and cleanup on your own when you can hire a skilled Junk Removal Miami Gardens Fl service to do it for you. Give us a call for eco-friendly, trustworthy professional construction debris and waste collection and disposal. 
We will remove any and everything in sight, such as:
Eco-Friendly Junk Removal
Do you need to get rid of old items but don't want them to be in a hazardous landfill? Then all you need is help from reliable, eco-friendly junk removers like us. We take the environment's health very seriously, which is why we do everything we can to ensure that your old junk is donated to a local charity, recycled, or disposed of appropriately.
Why Choose Us for Junk Removal in Miami Gardens?
The task of removing junk needs to be performed cautiously and skillfully or else, your property's floor, walls, and furniture can get damaged in the process. While upstart junk removal businesses cannot guarantee the safety of your property, Wizard Junk Removal can! We are Miami junk removers you can depend on to get the job done most professionally. After taking away all the junk for recycling, donating, and disposal, we will also clean up. We understand how valuable your money is; therefore, we provide free, non-obligatory on-site estimates. We will also match any written estimates you have received from our competitors. If you're looking for Junk Removal Miami FI, give us a call now!