Wizard Junk Removal Sunny Isles Florida
Are you stressed over how to get rid of the huge amount of junk and unwanted items that have been accumulating in your house or office? Wizard Junk Removal is here for all of your junk removal needs, so pick up the phone and give us a call. Our Junk Removal Sunny Isles Fl services are available to assist you when you have too much junk that has to be removed immediately. We'll be there in no time to get the job done right, whether you just want to get rid of that old recliner that's been on its final legs for decades or you need help with an entire estate cleanup.
Junk Removal Sunny Isles Fl Company Providing a Wide Range of Services
Wizard Junk Removal is customer service-oriented junk professionals who love to assist customers in decluttering their homes, businesses, construction sites, etc. We're the best in Sunny Isles, Florida, because we're committed to providing high-quality, timely service. We set ourselves aside from the rest of the so-called junk removers out there because of our dependability and affordability.
We provide waste and debris removal services for commercial and residential customers and demolition and construction debris removal. Our mission is to provide exceptional client service, including speedy estimates and same-day service. No project is too big or small for our enthusiastic crew of junk removal experts.
License And Premium Insurance Coverage
All of our local junk removal trucks and pick-up teams are subjected to thorough background checks before being hired by us. We are licensed and have premium insurance coverage, ensuring that you are always fully protected throughout the junk removal procedure.
Cheap Prices for Professional Junk Removal Services
It is not necessary to spend a fortune on junk removal services. Our prices are typically much lower than the national average for junk removal. When you call us, we will be delighted to be your cost-effective choice for hassle-free junk removal and disposal service provider.
Residential Junk Removal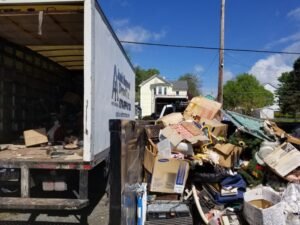 We can assist you in getting rid of old furniture if you don't want to deal with the inconvenience of disposing of it yourself. We'll even give you a free, non-obligatory online price for removing that furniture and any other household junk and trash. All unwanted junk furniture, including single items, massive bulky furniture, and estate cleanouts, can be conveniently performed by us. If your used furniture is still in good condition, we'll give it to a local thrift store or recycle it if it's possible to keep it out of the landfill. Rely on our Junk Removal Sunny Isles Fl service for low-cost residential junk removal in your area.
We remove every piece of unwanted residential junk such as:
Commercial Junk Removal
We can help you eliminate any commercial junk or e-waste you no longer need when you move or upgrade/renovate your office. We can help you with commercial junk removal solutions by providing full-service cleanouts, upfront pricing, and flexible scheduling. Depending on your demands, we will pick up single goods or many truckloads. For junk removal professionals near your business location, give us a call or book an appointment online.
We take commercial junk like:
Yard Waste Removal
You can get your yard debris taken away as soon as tomorrow if you have a bag of leaves or grass clippings to get rid of. As long as your yard waste is bagged or bundled, we will come to pick it up and tuck it away when it's convenient for you. We provide an indoor pick-up service that includes all heavy lifting, loading, and disposal. But if you don't have time to wait for yard waste collection? You can bring all of your bags to the curb, and we'll take care of the rest! Our curbside collections may be more convenient for you. 
We pick up and dispose of yard waste like:
Grass clippings

Tree branches

Sawdust  

Soil  

Sod  

Mulch  

Fencing  

Firewood  

Gravel  

Paving stone  

Landscape waste  
Construction Debris Removal
Contractors hire our hardworking junk removal professionals to remove all types of construction debris created from large- and small-scale projects. Our heavy-duty dump trucks and trailers are built to safely transport up to 5 tons of construction debris per load. Most of our competitors would have to make two or three trips to the dump to remove the same amount of waste that we can in one run. Beyond our carrying capabilities, we also provide a higher level of service by dispatching skilled and experienced teams who know how to load hazardous material securely and efficiently.
This means we're capable of removing and disposing of:
Eco-Friendly Junk Removal Experts in Sunny Isles, Fl
The goal of junk removal is to keep your home or company clean, safe, and attractive. That is why we do whatever it takes to provide our customers with the most environmentally friendly alternative possible. Donations to charity or recycling are our preferred disposal methods for the junk we collect. We're proud to reduce heaps of trash and waste from local landfills by doing our part and taking care of the world we live in.
Why Choose Our Sunny Isles Junk Removal Services?
We are committed to providing the finest possible service to our customers. From start to finish, our team is dedicated to removing every piece of junk from your property so that you can enjoy a clean and clutter-free space. Our customer service team is the best in the country because Wizard Junk Removal is all about the consumer experience. If we fail, we will do everything to make things right, so you don't have to worry about anything. Call us at Junk Removal Sunny Isles Fl for hassle-free services, guaranteed excellent customer service and fair pricing.