Wizard Junk Removal in Groveland, Florida
It's understandable if you don't want to deal with the garbage accumulated in places like your garage or basement. If you try to do it yourself, you risk injuring yourself or causing property damage. Another problem you have to deal with is the disposal method of the waste. You don't want to risk getting into trouble by discarding your broken furniture, e-waste, and trash on the street. Don't worry! Wizard Junk Removal will handle the job for you. 
We are a reputable and licensed company that specializes in a variety of junk removal Groveland FL services. Our professionals work like magic to remove old furniture from your home, debris from remodeling projects, or yard waste. We can make your home trash-free in no time. When you hire us, you won't have to do anything, just sit back and watch us work. The easiest way to get rid of all the trash products gathered in your business or home is to use our professional junk removal services. We can complete any assignment in a single day because we run our services quickly and efficiently. For any inquiry, call us at -(352-441-3855)
When you use our junk removal services in Groveland, FL, you'll find that our employees are helpful and extremely efficient in their work. Our junk removal Groveland FL business has contacts with all recycling facilities and charities, and that's why you won't have to worry about where to dispose of your waste when we work for you. We are a licensed and bonded company, and we have all the necessary documents needed to dispose of the junk we collect safely. We'll also give you some pointers on how to manage your waste in the future. As a registered business, we recognize the importance of decreasing your carbon footprint on the environment, which is why we ensure that most waste gets recycled and very little of it ends up in a landfill.
 We are a reputable junk removal Groveland company that provides affordable solutions to all of your junk removal needs. We assist you in organizing and executing the huge trash removal task in a timely and efficient manner. Our skilled employees can handle a wide range of services and are well-equipped to handle every aspect of the work. The advantage of using our junk removal service is the efficient work and precise results you will receive. We will take care of everything, including complete clean-up after junk removal, so there will be no need for additional cleaning services. 
Residential Junk Removal Service in Groveland FL
Only a reputable and efficient company like ours can clear all the clutter and junk piled up at your home. Unless you clear your daily junk regularly, it quickly grows into a massive problem that cannot be managed without assistance. The inconvenience of disposal and transportation is the most problematic component of junk removal from your home. It can also be stressful and dangerous, which is why you should hire the help of professional residential junk removal in Groveland service. There's no need for worry because hiring our junk removal in Groveland service is a straightforward process, and we can finish any work in just 24 hours. The result is a home that is cleaner and more spacious. 
Residential junk removal services:
      Relocation junk removal

      Furniture removal

      Basement cleanup

      Appliance removal

      Attic cleanup

      Electronic gadgets removal

      Garage cleanup

      Mattress, carpet and rug removal

      Shed removal

      Remodeling debris removal

      Hot tub removal

      E-waste removal
Commercial Junk Removal Services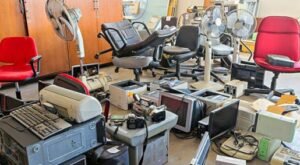 Wizard Junk Removal is the best company for all your commercial junk removal needs. We're here to help you get rid of the unwanted merchandise that's taking up valuable shelf space in your office. Our professional staff can remove furniture, documents and plastic bags full of trash in a timely and effective manner. Once the job is completed, our team will send you a detailed invoice, ensuring no error when it comes to payment. You won't have to worry about anything when you use our commercial junk removal in Groveland service. We understand how busy company owners' schedules can be, so call us right away to take advantage of our services. 
Commercial Services offered:
      Property waste management

      Office cleanup

      Daily commercial junk removal

      Warehouse cleanup 

      Foreclosure and eviction cleanup

      Commercial dumpster rental
 Construction Debris Removal in Groveland, Florida
The task of collecting construction debris from active building projects is always a challenge. All construction sites generate a lot of trash, junk and garbage, no matter how big or little. The project is, and getting rid of it on time can be difficult. Our construction debris removal in Groveland service can help you handle the situation. We are here to remove construction debris such as concrete, wood tiles, asphalt, metal, and gravel for you. If you try to clean up construction waste on your own, you will end up spending a lot of money because you'll have to pay extra for labour, trash rentals, and landfills, among other things. Using our professional junk removal, Groveland FL service to clear construction debris is more practical and cost-effective. 
Services offered:
      Construction debris removal

      Asphalt paving removal

      Corrugated sheet removal

      Tiles and sheeting removal

      Metal scrap/wood scrap removal

      Gravel/stones removal

      Nails/screws removal

      Concrete/stone slabs removal

      Cement/bricks/drywall removal
Yard Waste Removal Services in Groveland, Florida
Are you landscaping, and there's dirt and rubbish strewn around your yard? or perhaps there was a storm in your area that messed up your beautiful yard? Our Groveland junk removal service is a professional service capable of handling all types of junk, including yard trash and debris. It would help if you did not put your health in danger to perform a task performed by specialists. When you call our yard waste removal in Groveland service, we will quickly schedule an appointment, clean your yard, and remove all trash. We are dependable and efficient at what we do, and we painstakingly clean your lawn and yard without fail. 
Our yard waste removal services:
      Yard debris

      Branches and clippings

      Broken trees of all sizes

      Dead leaves

      Metal yard scrap

      Damaged wooden fences

      Firewood and lumber

      Unwanted gardening equipment

      Shed and treehouse demolition

      Soil and dirt

      Yard waste transport and disposal
Our Eco-Friendly Company Truly Cares about the Environment 
Our junk removal Groveland FL company is environmentally conscious, and we never dump all of your garbage in landfills. We value environmental preservation, which distinguishes us from other junk removal companies in the industry. Our organization ensures that your rubbish is correctly recycled and the usable goods are donated to good charities, guaranteeing that you do not increase your carbon footprint. In today's world, we must all do our part to protect the environment.
For a free, no-obligatory quote for your junk removal service, contact us right now. You can reach us at any time at (352-441-3855)