Wizard Junk Removal in Deerfield Beach FL
A mountain of junk in the garage or basement is a problem many of us have experienced. Cleaning out the area is a big task and before you try to do it yourself, be aware of the possibilities of harming yourself or causing property damage. The best option is to call a junk removal Deerfield Beach, FL service like ours who can do the job with expertise. Wizard Junk Removal has been a leading service provider in this sector for many years, and our junk removal services in Deerfield Beach, FL, are known for their trustworthiness. Our employees work like magicians to remove old furniture and junk, debris from renovation projects, and yard waste from your property. 
Looking for a Dependable Junk Removal Company in Deerfield Beach? Just Call Wizard Junk Removal.
All of your junk removal needs can be met by our junk removal Deerfield Beach, FL service, and we do that at an affordable price. Our professionals are here to help you with the enormous burden of junk removal from your property in a timely and efficient way. The services we offer at our Deerfield Beach junk removal company are wide-ranging to suit all our customers' needs. The benefit of choosing our company is that you will obtain experienced and high-quality workers who are well-equipped to manage all aspects of the project. We also guarantee that there will be no hidden expenses because we will give you fixed pricing for the entire project.
Licensed and Bonded Junk Removal Company in Deerfield Beach FL
We are a licensed and bonded company with all the legal documentation and paperwork needed to correctly dispose of the junk we collect. By hiring our junk removal Deerfield Beach FL company, you can eliminate all the unnecessary stress of finishing this complicated work. All you have to do is sit back and watch us work! Don't get in trouble by throwing broken furniture, e-waste, or rubbish out on the street because that is against the environmental laws. Contact us, and we will dispose of your waste while maintaining all the rules and regulations of the state. As a responsible business, we genuinely care about reducing our carbon footprint on the environment, which is why we make sure that the majority of garbage is recycled and little of it ends up in a landfill.
Residential Junk Removal 
Only a reliable and efficient residential junk removal in Deerfield Beach service, such as ours, can remove all of the clutter and rubbish from your home in a single day. The most challenging aspect of junk removal from your home is the hassle of disposal and transportation. It may also be dangerous for your health, which is why you should seek the assistance of our professionals. Hiring our junk removal service is a simple process, and we are available for you at all hours. 
Residential junk removal services:
      Basement cleanup

      Attic cleanup

      Remodeling debris removal

      Relocation junk removal

      Garage cleanup

      Hot tub removal

      Appliance removal

      Furniture removal

      Mattress, carpet, and rug removal
Commercial Junk Removal Service in Deerfield Beach FL
Our company is ready to assist all business owners with our commercial junk removal in Deerfield Beach services. No matter the size of your commercial place, we can manage everything from trash collection to property cleanup, so there will be no need to call three or four different businesses. Our personnel is well-known for their courteous service, and they will ensure that your company's waste management routine is correctly maintained at all times. Wizard Junk Removal also offers customized services to accommodate our customers' budgets and needs.
Commercial junk removal services:

Commercial junk removal

Commercial place cleanup

Business waste management

Office property cleanup

Dumpster rental 

Warehouse clean-ups
Our junk removal Deerfield Beach FL company provides financial, commercial cleanup services that meet all of your needs—having this critical work completed by a professional will allow you to maintain a well-organized office environment. We promise that you can count on our on-time and scheduled cleanups and junk removal work when you hire our company.
Construction Debris Removal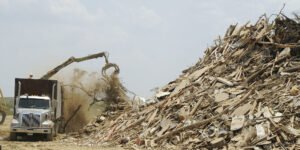 Our construction debris removal in Deerfield Beach service has a high work standard, and we are always committed to maintaining our job quality. Our company offers all types of construction debris removal for both large and small projects. Whether it's a small house renovation or large building construction, we will provide you with the most OK waste and trash management support. The knowledgeable professionals of our company will remove all debris from your construction or remodeling site in a hassle-free way. 
Construction debris removal services:
Stone chips removal

Cement/bricks removal

Concrete removal

Drywall removal

Gravel and asphalt paving removal

Corrugated sheets removal

Tiles and sheeting removal

Metal scrap removal

Screws and nails removal
Yard Waste Removal Services in Deerfield Beach, Florida
Do you have dirt and trash all over your yard? Was there a big storm that ruined your lovely lawn? In these situations, cleaning the yard is a must, but you should not put your health in danger to complete a task handled by professionals. Our junk removal company offers an exceptional yard waste removal in Deerfield Beach service that can handle all types of yard waste, including storm debris. When you call our professional yard waste removal service, we will arrive promptly and remove all trash so that you can start using your yard again.
Yard waste removal services:
      Branches and clippings removal

      Yard debris removal and disposal

      Dead leaves removal 

      Damaged wooden fence removal

      Shed demolition/removal

      Soil and dirt removal

      Furniture and gardening equipment removal

      Broken tree cleanup

      Firewood and lumber removal 
Affordable Junk Removal Service Deerfield Beach, FL,
We are a reputable junk removal Deerfield Beach, FL, company that offers affordable solutions to all of your junk removal requirements. The highly trained professionals working for us can perform a wide range of services, and they do it with a smile. Give us a call or email us to hire our services.