Wizard Junk Removal Parkland Florida
So, suppose you're looking for junk removal and hauling service in Parkland, Florida, with a proven track record of successful projects and positive customer feedback. In that case, Wizard Junk Removal is the one to call.
Our crew has provided 24/7 junk removal services in Parkland, Fl, and the neighboring areas, catering to residential and commercial clients. All you need to do is call us, and we'll come to clean out your trash. At Junk Removal Parkland Fl, we take pride in our efficiency and ability to complete most projects on the same day. Whether you're finishing a huge construction job, have a room full of old furniture you don't need, or have trash taking up space on your property, we are always ready to assist you.
Junk Removal Parkland Fl Company 
Wizard Junk Removal is the most convenient company to hire to get rid of your rubbish. We will haul away your old appliance, dispose of your trash, and recycle whatever can be salvaged. Call us immediately for a stress-free Parkland Junk Removal service. Fill out an online form or give us a call, and we'll talk about your junk hauling and disposal needs. We serve all of Parkland, Fl, with devotion and dedication, striving to keep the environment, communities, and your home clean and safe. Everything from everyday trash to large-scale junk is collected and hauled away. We dispose of rubbish and even toxic waste safely and legally.
Licensed And Insured Junk Removal Professionals
We make it simple for you by handling all of the loading, hauling, and junk disposal involved in the junk removal process. We are a professional junk removal company that is insured and licensed. We are proud of our work and, more importantly, we care about our customers' opinions, which is why we guarantee complete customer satisfaction!
Affordable Pricing and Free Non-Obligatory Quotes
 We will provide you with a precise, affordable, and free, non-obligatory quote on your junk removal demands. We can either give you an estimated range over the phone or send over our experts to assess the task and provide you with an onsite estimate. They will calculate the final pricing without putting you under any obligation.
Residential Junk Removal and Hauling 
A home can slowly become cluttered over time, with objects you no longer require or desire. They can take up a lot of room and take a long time to remove. You may want additional space in your home and for your home to look neat and clean. But moving heavy stuff like old furniture around can be some backbreaking work. It would be easier to get rid of your unwanted things by hiring a junk removal service. Contact Junk Removal Parkland Fl if you need to clear out a house or a family estate. 
We Haul Away Residential Junk, Which Includes:
Sofas/Couches

Recliners

Ottomans

Love Seats

Bookcases

Coffee tables

End tables

Changing Tables

Kitchen tables

Dining room tables

Kitchen appliances

Chairs

TV sets

Beds

Mattresses

Dressers

Shelves

Desks

Cribs

Toy boxes
Commercial Junk Removal and Hauling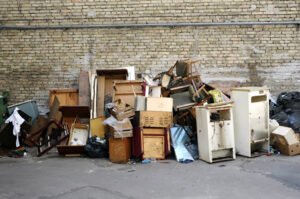 Is your office overflowing with desks, filing cabinets, chairs, and other office furniture? What about computers, monitors, and printers? Wizard Junk Removal will clear out all of your office clutter quickly. We serve business owners, office managers, and other commercial clients in Parkland, Fl. Allow us to assist you in restoring your workplace to a place of business rather than a storage facility. We will help you get rid of the distracting clutter, allowing you to hold critical meetings without embarrassment! 
We can get rid of:
Yard Waste Removal and Hauling
Yard waste may obstruct a variety of tasks in addition to being an unsightly safety hazard. But after landscaping or gardening activities, properly disposing of the junk can be a real challenge. Why take it upon yourself to do it when you can get help from junk removal and hauling experts? Make an appointment today by calling Junk Removal Parkland Fl, and we will be delighted to remove any junk or undesirable things from your yard, including the following:
Construction Debris Removal And Hauling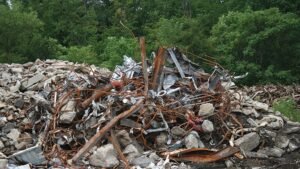 If you've worked in construction, you know that even minor tasks generate a lot of waste. In today's environmentally conscious culture, you can't just toss anything in the nearest dumpster. For your demolition waste, debris, concrete waste, and other waste products generated during your construction project, you'll need a comprehensive waste removal and recycling solution. Junk Removal Parkland Fl can provide you with effective solutions unique to your construction needs.
Contact us for:
Construction debris hauling and disposal

Construction junk, waste, and material disposal

Plasterboard removal

Drywall and floorboard removal

Demolition and cleanup services

Timely waste disposal
Green Junk Removal Company
Our junk removal services not only help you get rid of clutter and useless items, but they also benefit the environment. If we cannot donate your belongings, we will recycle or dispose of them environmentally friendly. Over 70% of all the junk and waste material we remove are recycled, donated, or disposed of appropriately. 
Trustworthy And Customer-Oriented Junk Removal Services 
Wizard Junk Removal seeks to form long-term relationships with our clients, and we are grateful that so many of them continue to contact us for additional services in the future. They know they can rely on us for flexible, cost-effective, and dependable services that reduce stress and provide peace of mind. We understand that the size of the junk removal task can overwhelm you, especially when you plan to take care of it every day, but then another day passes, and stuff continues to pile up. But what may take you days or weeks to clear out on your own will be done in a day by our team of junk removal specialists. However, before we get to work hauling away your junk, we provide free onsite estimates to ensure that you receive an accurate quote. Call us for efficient and affordable Junk Removal Parkland Fl services now!