Wizard Junk Removal in Southwest Ranches, FL 
You don't want to deal with the junk that has gathered in your property because there may be various risks involved, including injury and property damage. Another big problem is the disposal method of the junk as authorities can fine you if you dump your damaged or unwanted furniture, junk, e-waste, and rubbish in a landfill without maintaining environmental rules. You need a professional junk removal Southwest Ranches FL service to remove the junk for you. Call Wizard Junk Removal as we are one of the leading junk removal companies in the area.  
We Provide Instant Junk Removal Solution for All Our Customers 
Our junk removal Southwest Ranches FL service can handle any job as an experienced and licensed business dealing with numerous junk removal types. We operate quickly to remove junk from homes, commercial places, construction projects and yards. All you need to do is relax and watch how our experts can make the area junk-free. 
Looking for Affordable Junk Removal Services? Contact Us Today!
Our junk removal services in Southwest Ranches, FL, are so affordable that you will wonder why you hadn't thought about hiring us before. Unlike many other services, we care about our customers' budgets. As a result, we never overcharge or include any hidden fees in our service. We operate smoothly, efficiently, and quickly enough to complete any project in a single day because that way, you won't have to pay us for an extra day of work. 
Quick and Reliable Residential Junk Removal in Southwest Ranches, FL
Most residences have food wrappers, broken furniture, damaged equipment, and daily rubbish piled up in corners. People don't have time to clean it themselves because we live such busy lives in today's world. But a junk pile can quickly become a health hazard as bacteria often grow in unhygienic places. Our residential junk removal in Southwest Ranches services can provide quick solutions in these situations. We will remove any debris, as well as broken furniture, mattresses, old beds, and filthy carpets and rugs from your property quickly and with care. Broken electrical equipment will also be removed by the competent workforce of our junk removal Southwest Ranches company. 
Residential junk removal services:
      Appliance removal

      Relocation junk removal and cleanup

      Electronic gadgets removal

      Cleanup after a natural disaster 

      Furniture removal

      Garage cleanup

      Remodeling debris removal

      Mattress removal

      Hot tub removal

      Basement cleanup

      E-waste removal

      Rug removal

      Attic cleanup
Commercial Junk Removal in Southwest Ranches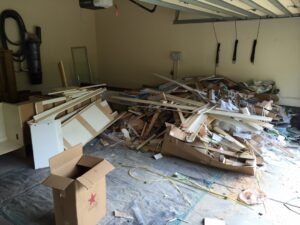 Using our commercial junk removal in Southwest Ranches service pays off in various ways. Our efficiency and organizational skill will help you save a lot of time and money, and our insured business offers a level of safety that amateur junk removal companies cannot provide. The trained staff can work quickly and professionally to make any rubbish removal project easy. 
Commercial junk removal services:
      Office cleanup

      Old machinery removal

      Computers and non-functioning data banks removal

      Warehouse cleanup

      Foreclosure and eviction cleanup

      Office renovation junk removal

      Commercial property waste removal 

      Broken office furniture removal

      Shop junk removal

      Dumpster rental
Construction Debris Removal Southwest Ranches FL Services
A construction manager needs to ensure that the project is completed on time, but if there's junk lying around everywhere on the construction site, it will prevent the labourers from working fast. Contact our construction debris removal in Southwest Ranches service to clear the junk from your construction site. We have the right equipment and skilled personnel to remove a load of construction waste swiftly. Our company prioritizes customer satisfaction, and we will maintain a work schedule that suits you. 
Construction debris removal services: 
      Stones/nails and screws removal

      Concrete/gravel/stone removal

      Cement/ bricks/drywall removal

      Tiles and sheeting removal 

      Metal scrap /wood scrap removal 

      Asphalt paving removal

      Corrugated sheet removal
Many types of building waste, such as stone, gravel, wood, bricks, and other materials, can be recycled with proper infrastructure. We have contact with companies that provide such recycling services. This way, we reduce our carbon impact on the planet and positively affect society. 
All Types of Yard Waste Removal Services in Southwest Ranches Florida
Our yard waste removal in Southwest Ranches service is just a phone call away if you struggle with yard debris and need help with yard rubbish disposal. When you contact us, a team member will quickly arrive at your house to assess the situation and provide you with a cost-effective solution to your yard waste problem. The way trash collected in yards is disposed of is a big concern because if the process is handled carelessly, the waste products can clog sewers, canals, and waterways. Several states also have laws preventing its disposal in landfills. Our Southwest Ranches junk removal business provides quick and easy solutions to such problems as we see it as our obligation to dispose of your yard waste while maintaining state environmental regulations. We also send some of your organic yard waste for recycling because it makes excellent compost.
Yard waste removal services:
      Soil and dirt cleanup and removal

      Branches and clippings removal

      Dead leaves removal

      Metal yard scrap removal

      Unwanted gardening equipment removal

      Damaged wooden fence disposal

      Broken tree removal

      Storm debris removal

      Old firewood and lumber removal

      Shed and treehouse demolition

      Yard waste transport and disposal
A Licensed and Insured Company to Ensure Customer Protection
Wizard Junk Removal is fully licensed and insured to keep our customers free of worry about possible property damage. Insured gives our junk removal Southwest Ranches FL company trustworthiness that uninsured companies cannot offer. Our teams are experts in removing trash in the safest manner possible.
Free Quote with No Hidden Charges
Our junk removal Southwest Ranches service will provide you with free quotations and estimates that are the most affordable in the industry, and there won't be any hidden cost. Contact Wizard Junk Removal today to handle the entire junk removal process without hassle!