Wizard Junk Removal in Fort Lauderdale, FL
When you have a significant amount of junk that has filled up your basement or attic, you should use a professional junk removal agency like Wizard Junk Removal. We are the most trusted junk removal Fort Lauderdale, FL, company, and our employees work efficiently and swiftly. There are many junk removal services in Fort Lauderdale, FL, but not all of them provide a comprehensive service, including hauling and disposal, as we do. Give us a call anytime to know more about our junk removal services in Fort Lauderdale. 
Licensed And Insured Junk Removal Company In Fort Lauderdale
We are a fully licensed and insured junk removal Fort Lauderdale, FL, company. Our company strictly adheres to all state safety standards and regulations to protect our customers. All our workers are specialists at removing trash in the safest method possible, and your property will not be damaged in any way by us. We promise that our same-day junk removal service can always be trusted to help you de-clutter your property swiftly and efficiently. 
Completely Free On-Site Estimates with Upfront Pricing
Our junk removal Fort Lauderdale company provides free on-site estimates to offer you a fixed price for our services. If we make a mistake and underbid the task, we will not charge extra after working. On the other hand, if we mistakenly overbid the job, we'll cut the price after the work is completed. So it's always a win-win situation for you! We'll provide you with the rate and give you the option of booking right away or getting in touch with us later if you decide to continue further. Of course, we hope you will choose our team, but you will be treated with respect regardless of your decision. Another perk of our junk removal Fort Lauderdale company is providing consultation free of charge.  
Hassle-Free Junk Removal Services in Fort Lauderdale 
Our junk removal in Fort Lauderdale service has the infrastructure required for a successful junk removal project. Due to our smooth-running operations and high-quality service, we have earned a reputation as one of the city's most customer-friendly junk removal businesses. We handle all of your waste management needs with care and attention, and we provide our services for both commercial and residential projects. 
Residential Junk Removal Services in Fort Lauderdale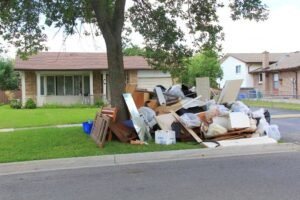 Garbage and waste can accumulate in our basements, garages, and attics without regular maintenance, and cleaning these spaces can take a long time. When your home is cluttered with rubbish, it appears messy and unsanitary, and it can affect the quality of your life. Our residential junk removal in Fort Lauderdale service will help you clean your home so you may live a healthier life. For timely and dependable solutions that will surpass your expectations, contact Wizard Junk Removal.
Residential junk removal services:  

Remodeling debris removal

Furniture removal

Hoarding junk removal

Appliance removal

Electronics removal 

Mattress/rug removal

Heavy fridge, more astonishing removal

Bedding, old sofa, and carpet removal

Hot tub removal

We are always here to assist you, so get in touch with us today!

Commercial Junk Removal Service 
Whether you have a small shop or a large corporate office, our commercial junk removal in Fort Lauderdale service is ready to help you with your trash management and junk removal needs. We care for our clients, and we always match our schedule to theirs so that there's no time clash. We also provide personalized services to fit your business. A properly maintained, cleaned, and organized office is a happy office! 
Services offered:
Commercial trash/waste removal

Office property cleanup

Office trash management

Commercial landscaping debris removal

Warehouse cleanup

Dumpster rental
Construction Debris Removal Service 
Construction waste can quickly accumulate into a threatening mountain of rubble. To remove materials like concrete, metal, and heavy trash, you'll need expert junk removal understanding and professional equipment. Do you need to clean your construction site quickly? Don't worry! Wizard Junk Removal has a unique construction debris removal in Fort Lauderdale service that will do the job for you. We are a seasoned company with modern equipment and large vehicles to remove big piles of trash in a single trip. After removing the heavy materials, we will sweep the worksite to make sure that small things like nails and screws aren't lying around because those tiny, sharp objects can do serious harm. 
Construction debris removal services:
Concrete removal

Cement/bricks removal

Corrugated sheets removal

Drywall removal

Gravel and asphalt paving removal

Stone chips removal

Metal scrap/wood scrap removal

Screws and nails removal

Tiles and sheeting removal

Yard Waste Removal Fort Lauderdale FL Service
Our yard waste removal in Fort Lauderdale service provides landscaping trash and yard debris removal services to the city's residents. We have the skills and experience to manage small and large-scale yard waste disposal operations in a timely and well-organized manner. Wizard Junk Removal guarantees with confidence that when we finish your yard waste removal project, the area will look gorgeous and will be completely clean. 
Services offered:
Branches and clippings removal

Soil and dirt removal

Dead leaves removal

Broken tree removal

Gardening equipment removal

Firewood and lumber removal

Broken yard furniture removal

Damaged wooden fence removal

Old shed removal
How We Work
The work method of our company is simple and precise. Our junk removal Fort Lauderdale service crew will arrive at your place on the day of the job with all of the essential tools and supplies. You can expect our staff to introduce themselves to you always to know who is on the premises. If you've chosen to have an estimate done on the same day as the job, they will start with that. Otherwise, they'll discuss the work details with you before beginning the cleanup. When the work is finished, they'll receive payment from you and leave. Simple, isn't it? To hire our service, contact us through our website or directly give us a call at (866) 695-0618)