Wizard Junk Removal Hollywood Florida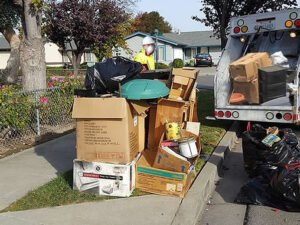 Are you preparing your home for a move? Are you attempting to declutter your backyard of undesirable items? Are you decluttering your workplace or estate? Wizard Junk Removal can assist you with decluttering and removing unnecessary items. Our junk removal Hollywood Fl services can meet all of your junk removal needs quickly and easily.
We want to be the largest and most well-known junk removal service provider. Our goal is to be the first and foremost choice for junk removal services in Hollywood, Fl. We offer only the most convenient and satisfactory junk removal experiences to achieve that. Contact us today for stress-free and hassle-free junk removal services.
Trusted Junk Removal Hollywood Fl Company for all your needs
We take our name and fame seriously at Wizard Junk Removal. All our employees are honest, friendly, and knowledgeable about our Junk Removal Hollywood Fl company's services. That means you can count on our crew to be kind, helpful, and respectful of your home, property, and possessions at all times. Whether you choose us for junk removal, you can be assured that our professionals do whatever it takes to provide you with the best possible experience. 
We Offer Fully Licensed and Insured Services.
What would take you weeks to clear out on your own will be done in a day by our expert team of qualified and trained junk removal specialists. We are licensed experts giving you insured and bonded junk removal services for your peace of mind.
Transparent And Affordable Junk Removal Services
We want our pricing to be as transparent and easy to understand as possible. The cost of junk removal varies depending on the volume of junk and the needs of each project. Please contact our customer care service for more information on our prices and add any additional services to your request. Our goal is complete transparency, so we'll be pleased to go through every detail with you and finally provide you with an honest, upfront and affordable estimate.
Residential Junk Removal in Hollywood Fl
Maybe you just got some new furnishings and are ready to get rid of your old ones. Perhaps you've recently redesigned your kitchen and need to get rid of waste from old cabinets and fixtures, but you're not sure where to start. You may be clearing years of clutter from an attic or basement in preparation for selling a loved one's house. We've all been there and have eventually needed junk removal services in one way or another. Fortunately, you can now save time looking up the several junk removal Hollywood Fl services and contact us at Wizard Junk Removal. We can provide you with any residential cleanup, cleanout, and junk disposal service at cost-effective rates. 
A list of residential junk removal services we offer:
Household junk and waste removal

Discarded furniture removal

Property cleanups

Eviction cleanouts

Old furniture removal

Hot tub removal

Household appliance disposal

Attic, basement, and garage cleanout
Commercial Junk Removal In Hollywood Fl
We provide commercial junk removal services all around Hollywood, Fl. Our professional team can remove unwanted furniture, cubicles, carpets, and other commercial stuff, from any location in your building. We also assist property management businesses with buildouts and debris removal and landlords with foreclosures and evictions for their tenants.
A list of commercial junk removal services we offer:

Official junk removal

Cubicle removal

Office equipment and appliance removal

Foreclosure cleanouts

Storage unit and warehouse cleanups
Yard Waste Clearance and Disposal in Hollywood Fl
Are you looking for yard waste removal in Hollywood, Fl? We can assist you with your yard waste and debris clearance. Call and book our services for yard trash collection in Hollywood, Fl. Junk Removal Hollywood Fl is committed to helping you restore the beauty of your yard by clearing it of all the clutter and debris. 
Below Are Some Yard Waste Items We Dispose of For You: 
Construction debris clearance and disposal
We look forward to satisfying all of your construction junk and debris removal needs, whether you are a building owner, a homeowner, or a contractor. Our knowledge and dependability are unrivaled, and we eagerly await the opportunity to be your Hollywood, Fl, debris removal partner. We will haul away everything and dispose of it responsibly, eco-friendly manner.
We remove all construction waste and debris like:
Bricks, planks, wooden boards

Concrete, corrugated iron, metal scraps

Windows, doors, drywalls

Plasterboards and floorboards

Construction debris, general junk, and dirt

Nails, glass pieces, broken tools
We Dispose of Your Waste in An Eco-Friendly Way.
Junk Removal Hollywood Fl is committed to you and environmental protection. We don't just accept the trash and junk that other junk removal businesses won't take—we'll make sure it's all disposed of responsibly. You can count on our junk removal staff to perform the job right. Reusable items are donated to local charitable organizations, while recyclable material is sent for recycling. The junk that cannot be recycled or reused is disposed of in ecologically friendly ways. More than 70% of everything we truck away is recycled or given as part of our environmentally friendly services, keeping trash out of local landfills. 
Why Is It Beneficial To Hire Us?
Wizard Junk Removal gives expert service through our qualified, educated junk removal specialists, and we have the most 5-star reviews in the business. That means you can always count on our staff to be kind, friendly, and careful and mindful of your property while on the job. You can be sure that hiring our junk removal Hollywood Fl service to get rid of your junk will be a good experience. We take pride in providing comprehensive end-to-end professional services for all of your requirements. We offer the proper junk removal solutions for you, whether cleanup or disposal. Give us a call if you have any queries about our services and would like to request an estimate on your junk removal request.