Wizard Junk Removal Bal Harbour
Any home filled with junk is a headache in the making and can be stressful. Did you know some studies prove a house filled with junk can emit negative vibes? The major problem most people face when they need to get rid of their waste is doing it alone, which becomes very difficult. It is hard to move bulky and heavy furniture through narrow corridors and staircases. But why bother when you can call a good junk removal Bal Harbour company to get all the trash, clutter and junk removed for you. Wizard Junk Removal provides an array of waste management and junk removal services in Bal Harbour, FL, for residential and commercial clients.
Residential Junk Removal Services in Bal Harbour
If you need to remove the trash from your basement, there is no walking space. The amount of dirt, germs and allergens collected in your attic due to the mould forming on the junk. There is a high risk of injury if your garage is filled with broken tools and scrap metal. It is unnecessary to risk your health and stress about it; give a call to Wizard Junk Removal in Bal Harbour, FL, and we will take care of it for you. Call us, and we will provide you with the budget-friendly solution you need.
Residential Junk Removal: We Removal all Types of Junk
Wizard Junk Removal will remove all sorts of junk from your storage unit, basement, yard and attic, office. We can help you get rid of your old mattress, rugs, curtains, refrigerators, fans, sofas, broken furniture, jacuzzi, hot tub, kitchen furniture, electrical appliances, and many other things.  Our services come cheap and affordable, and we don't believe in fleecing you. Other junk removal services may not provide you that quality of work but will charge you the moon. At Wizard junk Removal, we believe in upfront pricing and make sure we never compromise on our work standards and efficiency.
We don't just throw your junk into a garbage dumpster in certain states. it's against the law to do so as it causes environmental pollution. Most of the organic yard waste is converted into fertilizer and compost. This is an eco-friendly way to deal with this problem. Give a Call to Wizard Junk Removal in Bal Harbour, Fl, and we will complete all jobs related to yard waste removal.
Budget-Friendly Commercial Junk Removal in Bal Harbour FL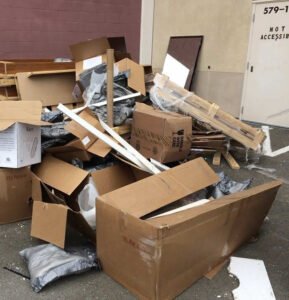 Landlords, Business owners, contractors, property managers can reap the benefits from Wizard Junk Removal's service in Bal Harbour, FL. Our customized Bal Harbour junk removal services are budget-friendly and come licensed and insured.  If you've got damaged appliances, broken file cabinets, spoilt electronic devices, tons of useless files and unwanted documents, then don't let them take up space. Call Wizard Junk Removal Bal Harbour, and we will work out a convenient schedule to clean out your property for you. Our skilled crews are trained to haul and responsibly dispose of commercial junk according to city regulations. What's  more. We won't even disrupt your working schedule. Call now for a free quote.
Commercial junk removal
Waste management

Office junk removal

Establishment/institution junk removal

Warehouse junk removal

Foreclosure and eviction junk removal

Estate landscaping debris removal
Construction Debris Removal
Time and money are extremely important to construction companies, but when you think of managing construction debris removal in Hinsdale with your resources, then it can become fairly expensive. It will most certainly involve separate dumpster rental charges, landfill charges and, of course, the extra expense incurred by your labourers waiting in landfill cues.
Most construction site owners benefit from Wizard Junk removal services for construction debris as they save money and time, but if you use your resources, you may have an expenditure. You may have to separate dumpster rental charges, labour and fees for landfills. Thus, it makes sense to hire Wizard Junk Removal Bal Harbour, FL, for their services as per our fee. Your services will also include:
          Construction/demolition debris removal

          Renovation debris removal

          Home improvement debris removal

          Soil/dirt/gravel

          Masonry debris and waste

          Construction waste products

          Damaged equipment

          Bricks/concrete/cement

          Broken shingles and tiles

          Wire/meta/scrap

          Damaged household fittings

          Asphalt pavings
Licensed And Insured: We Are the Professionals Of Junk Removal In Bal Harbour
Wizard Junk Removal possesses the required certification and training for managing all sorts of junk in a damage-free manner. Our company is insured and licensed, providing extra safety for junk removal services for residential and commercial properties. Our insurance includes skilled and experienced team members who will remove the junk in a damage-free method. Wizard Junk Removal are the best junk removal service in Bal Harbour, FL, as they are equipped with the latest equipment and tools, making the job easy for us as well. We always keep our customers more than happy with our service.
We Help You Go Green Through Eco-Friendly Junk Removal
One of the biggest parts of the junk removal process is the disposal. It is recommended to hire a reputed and responsible junk removal company in Bal Harbour, FL, to keep the environment clean and reduce pollution. There is no other than Wizard Junk Removal. Most of your junk is separated either for the recycling centre or charitable organizations. Around 80% of your waste is recycled, whereas the rest is needy. In this way, we help in conserving our environment and planet.
Get Junk Removal Services In Bal Harbour, FL. With Wizard Junk, It Is Easy.
Don't let junk occupy most of the space on your property. Give us a call, and we will provide you with a free quote on your services with no obligations. We will only charge you once, and there are no additional fees. You should call us, and we will provide you with more information and work out a suitable solution for you to keep your home junk-free.