Wizard Junk Removal Lake Worth, Florida
If you have any trash, construction debris, or junk that needs to be removed, search for Junk Removal in Lake Worth, Florida. Then you need to contact one of the best junk removal services- Wizard Junk Removal for dependable and excellent customer service. We will do all possible to ensure that you stay within your budget while receiving the highest-quality junk removal service possible. 
Junk Removal Lake Worth Fl will take care of your excess trash, waste, junk, scraps, and unwanted goods and dispose of them in a timely and effective manner. We'll take care of everything, from cleaning to demolition to removal. We'll collaborate with you to eliminate any unwanted items from your property. Please don't hesitate to contact us because we can handle practically everything. We will go wherever you need us to go, and we will do so quickly and courteously. Call us for a free quote!
Our Professional Junk Removal Lake Worth Fl Company
Wizard Junk Removal is a well-known company operating in Lake Worth. Our facility provides us with excellent access to the locations we serve. We possess a hardworking and knowledgeable junk removal crew and many modern dumpster trucks. Customers can rely on us since we have the skills and equipment to meet their needs. It can be difficult to find any other good junk removal service in Lake Worth that can match our quality of service and professionalism. Give us a call, and we'll be pleased to walk you through the junk removal procedure.
Our Expert Junk Removal Lake Worth Fl Team
We are a full-service junk removal Lake Worth, Fl company that specializes in residential and commercial junk removal. You can trust our highly skilled team and a fleet of large-capacity trucks to get the job done correctly.
Licensed And Insured Junk Removal Company with Upfront Prices 
We are completely upfront in our transactions as a licensed, insured, bonded junk removal business in Lake Worth. This is why we have such a large customer base that is completely satisfied with our work. We strive to please our customers and do everything we can to assist you in managing your junk removal requirements more effectively. 
How Much Will Junk Removal Services Cost You?
Call or fill out our contact form and complete a few questions to get a free price estimate. Our pricing for junk removal is also provided on our website. This is a common approach for providing an estimate for your junk removal requests. We also offer free onsite quotes in Lake Worth, Fl, for more challenging work.
Residential Junk Removal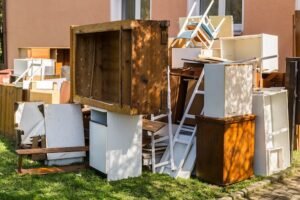 We have the staff, equipment, and resources to handle almost any type of residential junk removal and cleanup. We take everything from modest jobs to large-scale cleanups. Junk Removal Lake Worth Fl will help you get your apartment or property back on the market faster if you hire us to clear it out. Our experts can also take before and after photos to document the state of the apartment or property. 
We provide a variety of residential junk removal and cleanup services like:
Mattress and bed removal

General furniture removal 

Home electronic devices and appliance removal

Basement cleanouts

Attic cleanups

Garage junk cleanouts and disposal

Computer, monitor, and printer recycling
Commercial Junk Removal
Figuring out how to get rid of the items you don't need while transferring, upgrading to new equipment, downsizing, or closing an office can be a pain. But you need to hire Wizard Junk Removal to solve your junk problem. Our expert and professional personnel will handle every aspect of your office furniture pick-up efficiently and safely. 
We remove:
Wooden office desks

Modular office desks

Office chairs 

Bookcases

Computer cabinets

File cabinets 

Workstation cubicles and panels

Reception desks

Conference tables

Training and break room tables
Yard Waste Removal
Yard waste removal, tree removal, debris removal, gravel and stone removal, and rubbish removal are provided by Junk Removal Lake Worth, Fl. Landscape and tree debris account for a sizable portion of your typical residential yard waste. We'll dispose of all of it along with your landscape waste in a responsible manner. 
We collect and dispose of:
Grass

Leaves

Dirt/soil

Bushes

Weeds

Shrubs

Trees

Branches

Stumps

Stones/gravel

Landscaping debris
Construction Debris Removers
Contractors, remodelers, and builders can use our construction debris removal service for all their construction debris removal needs. We proudly serve Lake Worth with quick, safe, and courteous debris collection and site clearance. All homeowners and entrepreneurs can benefit from our excellent service at reasonable pricing. Our construction and debris cleanup services are available for major projects and little home modifications that require complete waste removal. 
Our construction debris removal services include:
Remodeling junk removal

Interior debris removal

Demolition site clearing

Drywall and light fixtures removal

Renovation junk removal

Interior fixtures removal

Metal scraps, shards, and tools removal

Storage unit and warehouse cleanouts

Lumber, wood, particleboard, and plywood removal and recycling

Cardboard, paperboard, and general paper products disposal and recycling
Junk Removal Services That Don't Pollute the Environment
Junk Removal Lake Worth Fl is a dependable and trustworthy company that will never harm or pollute the environment. As an environmentally conscious organization, we follow all state waste disposal rules and will never contribute to land degradation in any form. At least 70% of construction waste can be recycled, which is exactly what we will do with the junk we remove from your site, home, or office. Things that can be reused will be donated to charitable institutions.
100% Customer Satisfaction: The Best Junk Removal Company to Work With
Wizard Junk Removal understands the synergy needed to run a professional and competent junk removal service in Lake Worth, Fl. In brief, we endeavor to serve customers with 100% satisfaction and provide them with a wonderful experience using our services. We pride ourselves on delivering superior service at affordable rates to residential and commercial customers. Our dump trucks are 30 percent larger than franchise carriers, which isn't by chance. When our customers need Junk Removal Lake Worth Fl services, we intentionally use much larger dump trucks than industry standards, objectively giving a higher value to our consumers at every price point. Would you please speak to one of our friendly junk removal experts on call and book an appointment for an onsite assessment of your junk removal needs?