Wizard Junk Removal Briny Breezes Florida
Do you have a lot of junk piling up? The useless junk you won't go to can be removed with our hassle-free and headache-free junk removal Briny Breezes Fl service. Contact Wizard Junk Removal for dependable and cost-effective services.
Being a town located in the Palm Beach County of Florida, Briny Breezes is served by one of the best junk removal service providers in the entire country. Hiring junk removers is certainly beneficial for you. It would save your time, money, and effort that you would have ended up spending if you were to dispose of your junk on your own. You will have to sit back and watch as junk removers clear up and clean out your house, yard, office, shop, or construction site. 
Experienced and Efficient Junk Removal Briny Breezes Fl Company
Wizard Junk Removal has been in this line of work for years and has established an outstanding reputation in the country. We serve the town of Briny Breezes with the same level of professional services and all the knowledge and skills we have acquired. We are dedicated to making junk removal in Briny Breezes Fl simple by eliminating our competitors' complicated pricing strategies. You will always be charged a single flat cost that won't be too pricey for your pockets with us. Call us when you need expert junk removal services to help you get rid of everything you don't need any longer.
Our Junk Removal Services Are Licensed and Insured.
We are a licensed junk removal service provider operating in Briny Breezes, Fl. Our services are covered by insurance policies that provide you with protection against damages. This means that if any of your property suffers any damage when we work on removing your junk, you will be compensated for your losses. However, you can rest assured that our trained junk removal crew will not make such amateur mistakes and damage your property in the bargain. We guarantee a seamless and efficient junk removal experience.
Affordable Prices with Free On-Site Estimates
We provide free on-site estimates at a fair, reasonable price, so you know exactly what to expect. If we make a mistake and underbid or overbid the task, we'll be held responsible, and your pricing will not change. We've all had our fill of high-pressure presentations, and we don't enjoy them. That is why we provide no-cost consultations. We'll tell you the fee and give you the option of booking right away, waiting until a later date or getting in touch with us later if you decide to continue further. Of course, we hope you will choose our team, but regardless of your decision, we will serve all customers with respect and professionalism.
The Junk Removal Process
Our junk removal procedure begins when you contact and hire us. We provide a reasonable estimate and upfront price, so no surprises.

We phone to confirm and let you know we're on our way around 15 to 30 minutes before your scheduled appointment. After our junk removal team arrives at your location, show them the trash that needs to be removed, and they'll instantly get to work.

Our skilled and experienced personnel always arrive on time and are ready to tackle any junk removal task. They will also treat your property and valuables with respect and care when hauling trash to our dumpster trucks. We do everything to make you feel at ease with the procedure and reassure you that true specialists are handling it.
Residential Junk Clearing Services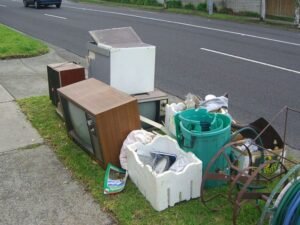 Are you looking for a reputable junk removal Briny Breezes Fl to remove your unwanted household appliances and furniture or other home items? Contact our company for residential junk clearing and removal services that won't do a thorough job. We even clean up your space once we're done hauling away all the junk for disposal. 
Our range of residential junk removal services:
Refrigerators and non-functioning washing machines removal

Old television sets and furniture disposal

Old mattress and carpet removal

Electrical appliance disposal            

Estate cleanouts           

Hot tub disposals 

Above ground pool removal        

Basements and attics cleanouts     

Garages and sheds cleanups
Commercial Junk Clearing Services
Old office furniture is taking up a lot of valuable space? Why let it remain to clutter your much-needed workstation when you call our flat rate junk removal Briny Breezes Fl company for fast and professional junk removal services. We can clear out and clean up your work area so that your official activities can continue in an organized and decluttered setting.
We offer: 
Complete office cleanup

Broken furniture and equipment removal

Computer, printer, old monitor recycling

File cabinet removal 

Heaps of paper and old file removal

Electronic items and gadgets disposal
Yard Waste Cleanup and Disposal
Junk Removal Briny Breezes Fl is dependable and trustworthy in yard waste removal. We provide residential and commercial yard cleanup and waste removal services. We will clean up your yard and dispose of the debris and trash even after removing all junk from it.
We take and dispose of:
Construction Debris Clearing and Disposal
A new construction project or home remodeling leaves a mountain of unwanted construction waste. Fortunately, we are Briny Breezes' number one construction debris removal service that provides you with fast and reliable waste removal to clear all construction debris. We can do the complete cleaning for you, leaving you with a clutter-free site to carry on with your construction work.
We remove everything like:
Brush piles              

Construction debris

Small demolition waste

Renovation waste

Interior-decorating waste

Concrete and metal scraps

Corrugated sheets 

Plasterboards 

And more
Eco-Friendly Junk Disposal
Junk Removal Briny Breezes Fl is committed to helping the town, and the rest of the world become a better and greener place. We recycle or donate everything we take from your house or company. First, we remove all forms of trash and waste, including retail inventory cleanouts, refrigerator removal, obsolete appliances, broken decks, sheds that are obstructing your garden, and even large-scale commercial building debris. We remain dedicated to keeping dangerous substances, electronic waste, and recyclables out of landfills; therefore, please do not dispose of these items in your regular trash collection either.
Contact Us the Best Junk Removal Service Providers in Town.
Wizard Junk Removal is one of the best companies providing quality junk removal services in the country. When you call, you'll speak to one of our customer service representatives, who will be happy to help you decide on the service you require. Our fixed-rate pricing is designed with simplicity in mind. Whether you need us to dispose of your clothes, furniture, supplies or yard waste, it is the same cost. Our Junk Removal Briny Breezes Fl team offers residential cleanups, property clear-outs, appliance removal and commercial services. If you want more information about our Briny Breezes junk removal services or have any questions, please call us today!