Wizard Junk Removal in Juno Beach, Florida
Is your living or working area filled with unwanted furniture, appliances, trash, or household junk? Wouldn't it be great to reclaim that space and enjoy the freedom of a clutter-free life? Reclaim your area by contacting Wizard Junk Removal. We are the best junk removal Juno Beach FL company in the city, and we can get rid of everything quickly and efficiently. Call us for a free estimate today!
Licensed Company Offering Responsible Services 
Junk removal is a simple process when you hire Wizard Junk Removal. Our staff are pleasant, knowledgeable and well trained to handle and carry away any form of rubbish from your property. Our junk removal Junk Beach FL company is fully licensed to offer extra protection to our customers. When our professional personnel works for you, you can expect the entire operation to be damage-free.  
How We Work 
Call our junk removal services in Juno Beach FL

Our customer care will ask you about the details of the job

We will send our workers to your place for an inspection

After that, we will give you a free transparent quote

If you choose to hire us, we will start working without wasting time

We provide same-day services or make a schedule that is convenient for you

Once the removal process is done, we will clean up your property
Residential Junk Removal
In most homes, rubbish piles up in basements, garages, and attics. Why put yourself through the hardship of living in a trash-filled home? Call our residential junk removal in Juno Beach services, and we will be there for you. With all the junk and trash strewn about, your home may become an eyesore, but don't worry! Our Juno Beach junk removal service will promptly eliminate all of it. Get your property de-cluttered and feel the peace of having a spacious home. It's not without reason that our junk removal Juno Beach company has become the industry expert in the city. 
services:
Remodeling debris removal

Shed and hot tub removal

Furniture removal

Heavy appliances 

Mattress/rug and carpet removal

Hoarding junk removal

Storage unit junk removal

Electronic item removal
Commercial Junk Removal in Juno Beach FL
The commercial junk removal in Juno Beach service that we offer to our customers can make getting rid of trash and waste quick and easy. As a full-service junk removal company, we have the manpower to do all the heavy lifting and carrying for you. All you have to do is tell us which items you want to get rid of, and we will remove them as quickly as possible. Once the removal job is completed, we will sweep your commercial property and make it clean for use. We also provide tailored services for the convenience of business owners. 
Services offered: 
Property waste management

Warehouse cleanup

Office cleanup and junk removal

Commercial landscaping debris removal

Dumpster rental

Foreclosure and eviction cleanup
Construction Debris Removal 
Our construction debris removal in Junk Beach service is the best provider you will find in the city. We work on both large and small projects, and we provide the best possible waste and trash management support by efficiently and swiftly disposing of construction debris. In house renovations and commercial building projects, many trash and waste material will always be produced. Your workers may find it difficult to work unless the debris is removed. Furthermore, debris and litter thrown around a job site can injure the laborers. Contact our professional junk removal Juno Beach FL company to find a budget-friendly approach to get your construction waste and trash removed.
Services offered: 
Tiles and sheeting removal

Gravel/asphalt paving removal

Concrete/stones removal

Nails and screws removal

Cement/ bricks/drywall removal

Metal scrap /wood scrap removal

Corrugated sheets removal
Yard Waste Removal Services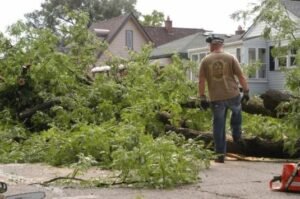 Landscaping the yard is a huge and exhausting task, and you would have to clean up afterward. For that, you would need to rent a dumpster and additional workers to dispose of the rubbish. It's much more cost-effective to employ a professional yard waste removal in Juno Beach service like ours to help you clean up your yard and make it lovely again. Wizard Junk Removal is a dependable service that specializes in clearing out all the debris left behind by landscaping projects. Furthermore, we provide services for both residential and commercial properties. Yard waste removal is required whenever a home yard or commercial establishment's green space is landscaped. A storm can also wreak havoc on your yard and scatter junk everywhere. We are known for dealing with these wrecked yards and restoring them to their previous level of beauty. 
Services:
Storm Debris Removal

Landscaping Debris Removal

Mulch and other Yard Waste Removal

Damaged Sheds Removal

Dead Trees Removal

Construction and Renovation Debris Removal

Broken Fencing Removal

Rotten Wood Removal

Tree Stumps and Branches Removal

Discarded Garden Furniture Removal

Dirt and Gravel Removal

Soil and Scrap Wood Removal
An Eco-Friendly Junk Removal Service in Juno Beach FL
State regulations prohibit you from simply tossing all of your waste into a rubbish bin to prevent pollution. Our junk removal in Juno Beach company is a qualified and licensed service that follows all of the state's guidelines and regulations for disposing of junk material. We are proud to be a company that cares for the environment and takes all the necessary steps to recycle as much junk as possible. Our firm belief is that we should all do our part to preserve the natural environment in today's world. Our junk removal Juno Beach FL service also finds the usable items from the removed junk and donates them to charities so that people in need can use those items. If you ever require a reliable junk removal service in Juno Beach, Florida, to take care of all your cleanup needs, contact Wizard Junk Removal today.