Wizard Junk Removal in South Palm Beach, Florida 
If you see nothing but an ever-growing mountain of rubbish when you glance around your house or garage, you might want to consider hiring a junk removal South Palm Beach, FL service. Using a junk removal service will help you reclaim control of your house by clearing up your living space. Wizard Junk Removal is a professional and experienced junk removal company that offers all types of junk removal services in the South Palm Beach, FL area. We are a waste management and debris removal expert, and we guarantee that you will find no other company that provides a better service than us.  
A Fully Insured and Licensed Junk Removal Company in South Palm Beach, FL
All the services provided by our junk removal South Palm Beach FL company have been certified by state authorities. We are a licensed and insured service that prioritizes clients' satisfaction and safety above all else. Caring for our customers is our nature, and you will see that attitude reflected in our services. 
We Efficiently Handle the Complicated Process of Junk Disposal  
 After removing the rubbish from your home, we need to dispose of the trash responsibly. It's not as simple as taking it away and dumping it elsewhere. Appliances and electronics such as refrigerators, wiring, televisions, stoves must be disposed of safely and properly; otherwise, they can pollute the environment. Copper and other polluting contaminants must be removed before disposing of these items. Our junk removal South Palm Beach company has the skill and knowledge that helps us follow environment-friendly disposal methods.  
Residential Junk Removal Services
Disposing of trash is a huge responsibility for most homeowners and an unpleasant one. However, it is a duty that you need to perform to keep your house clutter-free, but when you need to remove a huge amount of junk, residential junk removal in South Palm Beach service like ours can help. If your home is congested and filled with trash, it's time to call Wizard Junk Removal to have it cleaned up and de-cluttered. Our professionals know what they're doing and can make disposing of trash and waste a breeze. After receiving your call, our company will send a team to your home to remove any goods you've set aside for disposal.
Services offered: 
      Furniture removal

      Remodeling debris removal

      Relocation junk removal

      Mattress removal

      Electronic gadgets removal

      Appliance removal

      Attic cleanup

      Garage cleanup

      Carpet and rug removal

      Hot tub removal

      Basement cleanup
Is the amount of junk in your garage preventing you from using it? Has your attic become a mess with too much old rubble all over it? No need to worry about that anymore! Our junk removal South Palm Beach service can take care of all these problems.  
Commercial Junk Removal Services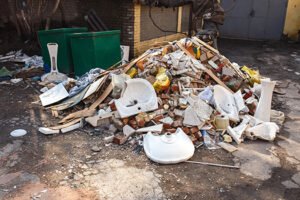 Do you need trash removal or cleanout service for your business or commercial area? Our commercial junk removal in South Palm Beach service will assist you in de-cluttering your business property. Wizard Junk Removal provides a wide range of environmentally safe junk removal services affordable. Our South Palm Beach junk removal company has expert workers trained to complete commercial projects quickly and efficiently. 
services:
      Warehouse cleanup

      Commercial place junk removal

      Dumpster rental for businesses

      Storage room cleanup

      Eviction cleanup
Moving heavy office furniture can be quite taxing on the body. If you try to remove the junk from your commercial place without professional help, you will counter problem after problem. Moving the junk down the stairs, loading it into a vehicle, and then transferring the items to a designated dumpsite for dumping are all difficult processes. The majority of people lack the resources or ability to perform all these tasks securely independently. Our junk removal South Palm Beach FL service is ready to help you at all times. When you hire us, you will get the right equipment and experienced workers who can get rid of your rubbish quickly, easily, and safely. 
Construction Debris Removal South Palm Beach Services
Our construction debris removal experts have been trained in various construction debris removal techniques. Whether it's a large construction project or a small house remodeling, we provide dependable service every time by removing construction debris from your work site carefully and efficiently. Except for dangerous chemicals and specific hazardous materials, our construction debris removal in the South Palm Beach service will remove everything. You won't finish your job on schedule if you don't keep your construction site tidy because a congested area slows down work speed. Allow our skilled workers to take care of the junk removal process so you can focus on your work.
Services offered:
      Concrete/stone removal

      Cement/bricks/drywall removal

      Nails/screws removal

      Gravel/asphalt paving removal

      Metal scrap removal

      Tiles and sheeting removal

      Corrugated sheets removal
Yard Waste Removal Service in South Palm Beach, Florida
Our yard waste removal in South Palm Beach service can assist you in cleaning up your yard and making it look neat. Having a yard means dealing with a lot of trash and clutter, and using our professional service will help you keep your yard beautiful. We remove any garbage or waste that has gathered in your yard due to routine maintenance or landscaping. 
Services offered:
      Waste and mulch removal

      Fallen tree and branch removal

      Storm cleanup services

      Landscaping debris removal

      Rotten wood removal

      Discarded garden furniture removal

      Tree stumps and dead tree removal

      Damaged sheds removal

      Broken fencing removal

      Dirt and soil removal
Environment-friendly Junk Removal Company 
Wizard Junk Removal is proud that we dispose of trash properly while adhering to all environmental standards and avoiding pollution. Unlike other junk removals South Palm Beach FL companies, we recycle as much junk as possible and donate reusable items to charities. You can call our junk removal service any time, and we'll be pleased to provide you with a free, no-obligation quote for your junk removal project.