Wizard Junk Removal Palm Beach Springs, Florida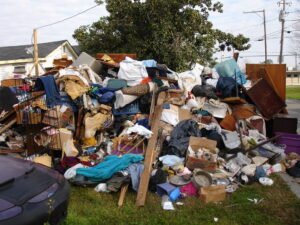 It doesn't have to be a backbreaking experience to get rid of unsightly trash, junk, and other undesired stuff. You can easily get the job done by hiring an affordable and reliable Junk Removal Palm Beach Springs, Fl company. But which one to hire? Of course, the one to hire is none other than Wizard Junk Removal. We arrive when and wherever you need us to cart away everything you require. We take pleasure in our ability to haul away various objects, from a shed to a paperclip, for no extra charges. 
Wizard Junk Removal in Palm Beach Springs Fl
Wizard Junk Removal is a reputed junk removal company with courteous staff members who are quick to respond, dependable, and sensitive to the demands of each of our clients. We have the knowledge, professional equipment, and know-how to execute any assigned project. We're easy to reach, and we're ready to haul your junk from anywhere in Palm Beach Springs. This means we will retrieve the things from anywhere on your property or in your home. The job will be done well, at a reasonable cost, and you will have a pleasant experience. All you have to do is point out the objects that need to be carried away, and our crew will take care of the rest.
Credible Junk Removers with License and Insured Services
Our Junk Removal Palm Beach Springs Fl is a professional low-cost junk removal service provider for your house or business, including offices, retail stores, building sites, and more. You can rest assured that your cleanup and junk removal needs will be met by a fully licensed, insured, and certified junk removal team.
Upfront And Transparent Pricing
We simplify the pricing process and provide an exact price without any hidden costs or extra charges added later. We ensure regular, transparent pricing with our industry-leading, standardized truck fleet. At Junk Removal Palm Beach Springs, Fl, we charge by the volume of items, not by the time it takes or how heavy it is. We calculate the cost depending on the amount of space the things take up in our truck beds. When our onsite crew gives you a quote, you will only have to pay that amount. 
The factors that are included in your quote:
Full Damage Insurance

Labor Charges

Fuel Costs

Disposal Fees

Donation Deliveries
What are the benefits we have to offer?
Competitive rates

Fully Insured

Friendly and professional staff

Largest trucks in the industry

Cleanup services included with every job

Our unique Donate-Recycle-Dispose process.
Residential Junk Removal
Our services can benefit you by remodeling or clearing out your house. If you want to get rid of persistent clutter, we are the ones for the job. We are efficient and capable of removing virtually any form of waste from your home. We can dispose of any remodeling/renovation debris, garbage, or any piece of furniture or appliance that has accumulated in your home. We work diligently and strategically to remove your trash and dispose of it properly. If you're looking for a low-cost trash disposal service, our extensive portfolio can help you find options that meet your budget.
We offer:
Household junk removal

General trash disposal

Furniture removal

Hoarding cleanup services

Garage cleanout services

Hot tub removal

Renovation/interior decoration debris and waste removal
Commercial Junk Removal
If you're looking for a commercial junk removal company in Palm Springs Beach, Fl, give us a call. One of our junk removal specialists will gladly assist you in finding the best services for your commercial junk removal and hauling needs. We have a long history of working with retail businesses to remove junk, waste, appliances, and debris. When looking for a junk removal partner, it's critical to discover the proper people to complete the task efficiently, on budget, and schedule. We can provide you with what you seek. Send us an email, fill out our online form, or contact us immediately if you need immediate assistance.
We provide:
Office junk cleanout and removal

File cabinet and cubicle removal

Office chairs, desks, and furniture removal

Computers, monitors, and equipment removal

Property management and cleanup services

Storage unit cleanout services
Yard Waste Removal 
People, especially children, love to spend time in their backyards. But it's important to keep your yard clean and free of unwanted trash, debris, and clutter. Despite your best efforts, yards can soon accumulate piles of natural garbage that you should get rid of quickly before it turns into a health and safety hazard. Weeds, leaves, shrubs, broken fences, landscaping debris, and tree trunks are just a few kinds of yard waste. Contacting Junk Removal Palm Beach Springs, Fl, will get you the help you need to remove all the waste and free up your yard area. We will properly handle and responsibly dispose of your yard trash and send it to recycling centers.
We help restore your yard to a clean and green space by providing:
Hedge and bush removal

Stone, tile, and brick removal

Tree stumps, branches, and twigs removal

Piles of leaves, cut grass, and weeds disposal

Discarded gardening tool removal

Landscaping debris and waste disposal

Shed demolition and removal

Playset or swing set removal

Storm cleanup
Construction Debris Removal
Our company is a well-known construction debris removal expert, providing comprehensive debris removal and several additional services. We also offer scheduled trash removal services for business clients. We are available to remove the waste material and junk from various areas of your construction site. We will properly handle each task at hand, promising fast and efficient outcomes, by fully using our expertise and skills.
You can contact us for:
Construction site cleanup

Debris and waste removal

Regular trash disposal

Dumpster rentals

Door, window, and wall removal

Metal scraps and concrete recycling

Glass shards and wood recycling
 We Donate and Recycle Your Junk to Promote Environmental Protection.
Junk doesn't necessarily have to end up in a landfill, so not every item is taken to the dump by us. We frequently come across things in good shape, which we can donate locally in Palm Beach Springs. We take pleasure in giving back to the community and being a more environmentally friendly junk removal company than our competitors. We salvage whatever we can from your junk and waste and recycle the rest.
Why Choose Us for Your Junk Removal Task?
When it comes to skills and experience, the best rates in the area, and stress-free service, no other competitor can beat our Junk Removal Palm Beach Springs Fl service standards. We work around your schedule, collect trash from any location on your property at no extra charge, and are enthusiastic about what we do. We do things correctly, always show up for appointments on time, and leave our customers smiling. Wizard Junk Removal is ready to cart away our clients' junk during rain or shine, regardless of whether it is cold or hot outside. We provide the necessary labor and materials to remove your junk in Palm Beach Springs and give the greatest customer service. Call us to schedule an appointment any time you wish!