Wizard Junk Removal Coral Gables
Junk at home needs to be removed regularly, but sometimes it can accumulate, leading to embarrassment. Hence companies like Wizard Junk Removal are helping remove such trash for people in Coral Gables. We have the tools, workforce, and expertise to help you clean your junk, irrespective of its type. We are skilled and prepared enough to remove any given stuff, whether it is a torn or worn-out mattress, moldy rug, a damaged sofa, or a rotting hot tub.
We Remove All Types of Junk
Wizard Junk Removal can haul away clutter and junk from any space. Whether you are an individual who wants to clean your home or an office manager wishing to free up space, we are ready to clean any property. You will get the best deal in Wizard Junk Removal if you are a property manager who needs an effective and affordable waste management solution. Yes, Wizard Junk Removal is budget-friendly and flexible enough to remove all types of junk. Wizard Junk Removal hires professionally trained crews who are customer-friendly as well. We are ready to assist you through the whole process. We never compromise and remove all junk with professionalism and efficiency. 
Residential Junk Removal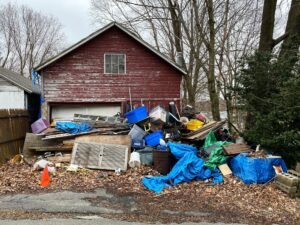 Homes full of junk like knick-knacks, broken furniture, damaged appliances, and debris strewn around always seem to be very untidy and unclean. And this can make you embarrassed in case any guest arrives. Often people don't clean such stuff regularly due to high cleaning costs or lack of time. Also, did you know that the trash that accumulates in your garage or basement soon gets soggy and attracts fungus? And this can call pests too. Do you want health issues for you and your family? No, right? If you have junk or trash and don't want any health issues to happen, call Wizard Junk Removal as soon as possible. 
What We Can Remove
We remove all types of junk that you have in your home. These can be bulky and broken furniture, mattresses, carpets, or spoiled appliances like TVs, fans, computers, ovens, refrigerators, etc. Stop worrying about your accumulated waste and call Wizard Junk Removal for a free quote.
Commercial Junk Removal
When it comes to clean-ups for large businesses, the workload automatically increases, and most clean-up companies do not come forward for such projects. But Wizard Junk Removal got you covered. We own trucks, dumpsters, respective tools, and crews skilled to clean heavy loads and big areas. All you need is to show us the different places, heavy equipment or debris leftovers from any former projects or recent wastes; Wizard Junk Removal will haul away everything. Most manure is recycled or sold out, and we credit your bill with the profit from the proceeds. 
Even if you own a small office, Wizard Junk Removal, Coral Gables, will remove all your junk and create a new space by clearing your old equipment without interrupting you on your workdays. According to municipal law, you don't have to worry about the disposal as we dispose of all the e-waste.
Yard Waste Removal 
It is hard to handle backyard clean-ups in Coral Gables, even with small lawns. But as we have proper tools and equipment, we offer our services throughout the spring and summer to help you out in clean-ups. Caring for your lawn is one of the simplest ways to keep a neat and beautiful yard, and our work includes a variety of yard work issues such as lawn mowing and leaf removal. After taking our service in spring, you will appreciate your choice and our work. 
Wizard Junk Removal is a full-service waste removal, disposal, and junk collection company. Every resident of Coral Gables can use our service for any clean-up. We keep updating ourselves and innovating new ideas to dispose of your waste and clean your yard. 
Construction Debris Removal
Removing construction debris is a major task, and Wizard Junk Removal ensures the efficiency and reliability of its services. We will help you remove all debris and maintain a clean and clutter-free construction site. We do our job promptly and dispose of the trash on a timely frequency. Moreover, we dispose of all your waste in eco-friendly ways to not contribute to environmental pollution. Debris such as masonry, rock, gravel and plastic, wood products, lumber, and tiles are mostly recycled and reused. 
Construction waste consumes a lot of space, which makes your space smaller and bulky and poses a threat to you, your family, or the construction workers. Therefore, timely removal of such debris is extremely important. Wizard Junk Removal does an excellent job in such works because it helps you by keeping your space clean, your renovation process organized and free from debris, and creating more space. You can call us or visit our website to know more about construction demolition debris removal.
Cheap And Affordable
We believe in keeping our environment clean, and therefore we provide high-quality services at very affordable prices in Coral Gables. We also offer free quotes that can be non-obligatory for you. We do not charge any additional rate, and no fees will be hidden. We and our rates give complete transparency, which makes Wizard Junk Removal the best company in Coral Gables. We guarantee you save both time and money by hiring us. 
Get Your Free Quote by Calling Wizard Junk Removal Today.
Whenever you feel the need for any clean-ups, be it a home, office or any other area or institution, call Wizard Junk Removal. We will make your money worth it and make sure we satisfy you with our services.