Wizard Junk Removal Delray Beach Florida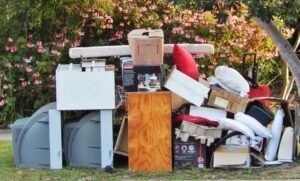 Do you have a garage full of stuff? A basement that needs to be cleared out. A yard that needs to be cleaned up…. whatever it might be, Wizard Junk Removal can help you with all your residential home or commercial business dumpster rental and junk removal service needs. Call 561-448-6103.
Wizard Junk Removal Delray Beach offers the most accurate and affordable rates in junk removal for residential and commercial properties. We provide prompt and efficient Junk removal services in this area and that is why our company is considered one of the most leading junk removal companies in Delray Beach. Wizard Junk Removal is a fully insured and licensed service provider, with decades of experience. We are specializing in commercial and residential junk removal services throughout the nation and South Florida. So, if you are also troubled by your household waste or you have a garage full of useless stuff or a basement/yard that should be cleared out now? Get rid of them as soon as possible! For this, you must rely on our company because we do our work with high responsibility and super quick.
Same Day Junk Removal Delray Beach 
As a leading junk removal Delray Beach company, we offer same-day pickup service on most jobs so you can be worry free knowing your pile is gone fast! At Wizard Junk Removal, we are about quality customer service, attention to detail, meeting deadlines, making sure that what needs to get done gets done. We are all about honesty which is why we believe in transparency of business making junk removal in Delray Beach and affordable and satisfying experience for you. We treat each customer like family and our goal is simple – To Help You Get Rid of Your Junk!
Wizard Junk Removal prides itself on providing professional Junk removal services in Delray Beach. Our staff members are skilled and trained enough to handle everything. From loading to dumping and disposal, we do our work carefully and with excellent manners. If you ever need residential and commercial Junk removal in Delray Beach for your office, house, basement, garage or storage property, then contact us at 561-448-6103. On a single call, your piles of trash will be hauled away from your house and unwanted items will be removed and picked up responsibly within a suitable time also. Wizard Junk Removal Delray Beach Fl, is all about safety and we make your yard, garage, basement cleaning hassle free.
Five Star Junk Removal Service Delray Beach
We pride ourselves on providing prompt professional service at cheap rates. Our staff takes great care while removal, and loading and dumping. We go the extra mile with our junk removal service. Check out our reviews on Google, Facebook and Yelp. Wizard Junk Removal will help you determine your needs for any project. We can provide you with a FREE estimate right now. Call us now to schedule an appointment. Let us make it happen!!! 
Residential Junk Removal in Delray Beach
When searching for a residential junk removal company, it is vital to research reliable services to ensure your time and money are well spent. After all, there are plenty of companies who claim to be the best at what they do but in reality, offer terrible service. Wizard Junk Removal was founded on the principle that the customer comes first. When you book residential junk removal services you are given a 2-hour window of when we will arrive. There is no reason to wait around all day for other companies that don't show up. Contact us today or book online to schedule your next junk removal service.
Residential Junk Removal Services we provide:
Commercial Junk Removal in Delray Beach 
We also offer the best commercial junk removal services in Delray Beach Fl. For commercial services, Wizard Junk Removal is the go-to company for any type of office, storage, warehouse and industrial junk. We can get rid of the unwanted or old items that are taking up more space in your warehouse or store front. Our skilled and dexterous employees will reach your location and remove your old furniture, broken plants, boxes packed with junk and trash bags without taking too much time.
If there is any item that has been lying there in your office for a long time but you have not noticed it then we will remove that item neatly from there too, you don't need to worry much. We know how much work a businessman has to do in one day and how important his daily schedule is for him too. Keeping all these things in mind, our company provides junk removal services in a very short time. so just contact us now at 561-448-6103 and we will arrange a junk removal appointment customized to your requirements as fast as possible.
Our commercial services:
Office clean-up and junk removal

Foreclosure and eviction clean-up

Construction debris removal

Warehouse clean-up

Property waste management

Landscaping debris removal

Dumpster rental
Construction Debris removal in Delray Beach 
In home renovation, commercial construction and interior demolitions there will always be a huge amount of waste and debris. If all this garbage and waste is not removed instantly then it will be very difficult for your worker to work properly and even move around to lift the items. At the same time, there will be a high chance of getting hurt also. Moreover, debris scattered around the construction site looks very untidy and can prove to be a huge hindrance to the work. Wizard Junk Removal Delray Beach will assist you with a pocket friendly and affordable solution to getting construction trash and debris hauled away quickly. What's more we manage your construction site to keep it well organized and free from waste, debris and trash so your workers can go about their jobs safely.
Yard Waste Removal in Delray Beach 
Summer and spring are the months that can give a huge headache and you may have to trim, cut hedges, prune and mow your lawn to get rid of it. Sometimes there just isn't enough time to pay attention to it all and in a few days the garbage and pile get accumulated in high quantities. Don't bother, Wizard Junk Removal Delray Beach will clean up all waste from the yard. They will remove leaves, piles, dead tree trunks, mowed grass, hedge trimmings and other useless objects strewn around your yard. So, for quick yard waste removal in Delray Beach Fl services, Call at 561-448-6103.
We Care About the Environment
Junk removal Delray Beach Fl will always have our customers' best interests in mind while disposing of your junk/old items. Our company is certified by state authorities and will dispose of junks in an environmentally friendly way. Our company donates usable items to different charitable organizations and also recycles on your behalf. We don't throw your stuff in landfills because that is an environmentally damaging thing to do.
Got Junk?? Just call Wizard Junk Removal Delray Beach and we will work out an affordable deal to make your home or office a cleaner one today. Call 561-448-6103.